MSC Places Further Order for 10 Additional 10,300 TEU LNG Boxships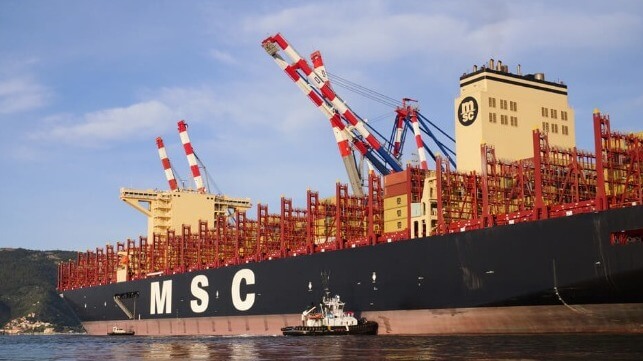 Mediterranean Shipping Company's (MSC) appetite for expansion appears to be continuing unabated even as the company nears a 20 percent market share based on capacity. In the latest step, MSC is reported to have entered into another shipbuilding contract valued at well over $1 billion for ten more containerships. The company is also deepening its long-term investment into liquified natural gas (LNG) while others in the industry including Maersk and CMA CGM have begun to move further toward methanol as the emerging alternative fuel.
China's Zhoushan Changhong International Shipyard is reporting that it received an order for 10 new LNG-fueled boxships being linked to China International Marine Containers (CIMC) and to be operated by MSC. The latest order is for a versatile midsize 984-foot vessel with a capacity of 10,300 TEU, including 1,900 reefers. They are highlighting the size of the design will permit the vessels a greater operating range with access to areas such as the Black Sea through the Turkish Strait, which MSC's newest class of ULCVs does not have the ability to reach.
The order also expands MSC's LNG-fueled orderbook. MSC took delivery of its first dual-fuel LNG vessel, the MSC Washington, in March 2022 with analysts at the time calculating the company had a total of 30 LNG-fueled vessels on order. Recent calculations have said that number doubled. The shipyard, which also received an order for 10 LNG-fueled ships from MSC at the beginning of 2023 with a capacity of 11,500 TEU, highlights the new ships will about approximately 50 percent below the IMO's Phase III emission baseline.
The design for the new ships, like the previous order, is being developed by CIMC Ocean Engineering Design & Research Institute. They are highlighting while the ships will be delivered for LNG, they will also have an adaptable configuration for the future potential use of ammonia or methanol as their primary fuel.
MSC is participating in several efforts to develop future alternative fuels. In May 2023, they joined in a project with China State Shipbuilding Company's Shanghai Merchant Ship Design & Research Institute (SDARI), MAN Energy Solutions, and Lloyd's Register which is focusing on the design of ammonia-fueled containerships. MSC also entered into a five-year agreement to provide ships and funding for pilots and trial projects working with Singapore's Global Centre for Maritime Decarbonization (GCMD).
After surpassing Maersk at the beginning of 2022, MSC has continued its steady growth now surpassing 5.2 million TEU of capacity. MSC also continues to purchase secondhand ships as well as expand its orderbook. Alphaliner calculates that the MSC's total orderbook stands at 126 ships with a capacity of more than 1.55 million TEU, which represents nearly a third of the group's current capacity.
The first class of the new ships from Zhoushan Changhong is due to start in the second half of 2025 and continue into 2026. The follow-on order is expected to deliver in the second half of 2026 and continue into 2027. Alphaliner recently calculated that MSC is on a trajectory to surpass a total capacity of 6 million TEU by 2025 and based on the new orders appears to be set to continue its growth.