Maltese Police Intercept 97 Kilos of Cocaine Hidden in Containership's Hull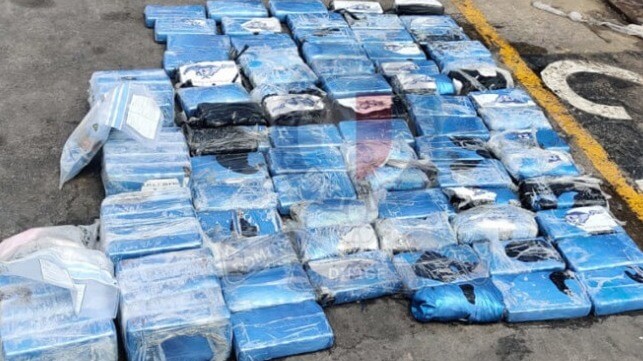 Police and Customs officials on the island of Malta believe they intercepted a large shipment of cocaine destined for Europe during a random inspection of an MSC containership arriving from Central America. A total of 97 kilos of cocaine was discovered hidden in a sea chest below the waterline of the containership.
Maltese police report that that vessel believed to be the MSC Shreya B arrived at the Malta Freeport in Marsaxlokk on the island on Saturday night, August 5. The 11,000 TEU containership registered in Portugal was arriving from Colon, Panama where it had transited the Panama Canal on July 20 and making a port call in Panama. The vessel was heading to Gioia Tauro, Italy.
Maltese officials reported the cocaine was found by private divers conducting an inspection for the ship's agents (Malta Police Force)
Divers hired by the ship's agents were making a routine inspection of the hull on August 6 when they believed things seemed out of place and then discovered large plastic packages hidden under the ship. They alerted the police which retrieved the packages and reported on inspection they contained the cocaine. The police estimated the street value of the drugs at €11 million.
After the investigation, the MSC vessel was permitted to depart Malta after midnight on August 7 and is continuing to Italy. The police in Malta are saying that they do not believe the drugs were destined for the island but instead that they intercepted a shipment bound for the mainland of Europe.