Italy and Libya Reach $8B Deal on Offshore Gas Development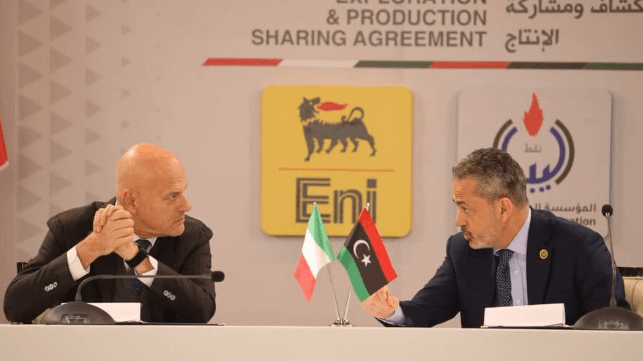 During a visit by Italian Prime Minister Giorgia Meloni to Tripoli, Italian state oil company Eni signed an $8 billion offshore gas development with its Libyan counterpart, the National Oil Corporation (NOC). It is the largest single energy investment in the country since the end of the Ghaddafi regime in 2011.
Together, Eni and the NOC will develop two gas fields off the Libyan coast, both tied back to the existing Mellitah processing complex. They plan to bring first production online in 2026, and Eni expects that the reservoirs will reach peak production of 750 million cubic feet per day.
"This agreement will enable important investments in Libya's energy sector, contributing to local development and job creation while strengthening Eni's role as a leading operator in the country," said Eni CEO Claudio Descalzi in a statement.
In parallel, Libyan Prime Minister Abdul Hamid Dbeibeh confirmed that Italy will provide the Libyan Coast Guard with five more patrol boats for its controversial countermigration operations.
Libya's governance is fragmented, and the offshore gas deal does not appear to have full political support from all parties. The militia that controls eastern Libya, the Libyan National Army, does not recognize the NOC's agreements with foreign oil companies. Meanwhile the Tripoli-based government's own oil minister, Mohamed Aoun, did not attend the signing ceremony and denounced the plan to local media as an "illegal" agreement.
Eni has worked in Libya since 1959, conducting exploration and then handing off development to Mellitah Oil and Gas (MOG), its JV with the NOC. This includes two offshore fields, Al Zawiyah and Bouri. Another Eni-led venture, Green Stream, connects Libyan gas supplies with Italian consumers via a subsea pipeline.
However, all Libyan energy operations have been hampered by sporadic violence and attacks on facilities during the long, lawless years of the Libyan Civil War. Disruption remains a real possibility: On Saturday, shortly after Meloni departed, a group of recent college graduates took over the control room at the Mellitah gas export complex to protest a lack of oil jobs, interfering with operations and slowing gas pipeline throughput to Italy, according to the Libya Observer.