Construction Underway on COSCO's Electric-Powered Containerships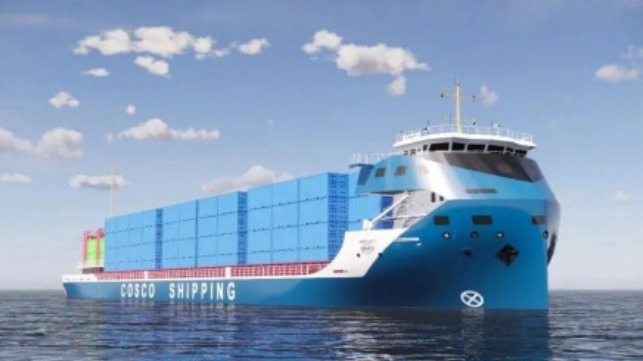 China's COSCO Shipping reports that it is making progress on its plans to launch its first electric-powered containerships on the Yangtze. Construction for the two vessels is now underway for the project that was first announced in March 2022. The ships are expected to begin service in late 2023.
The two ships are each reported to be 10,000 tons and designed to sail a route between the river and the sea stretching more than 600 miles. Each ship will be 393 feet in length with a beam of approximately 77.5 feet. They will have a design draft of 18 feet to provide good maneuverability along the Yangtze with a carrying capacity of up to 700 TEU. COSCO is billing the ships are the largest electric containerships in the world.
Each of the ships will be powered by two 900 kW main propulsion motors. When the project was unveiled last year, COSCO said the ships will use containerized batteries the size of a 20-foot container with a capacity of 50,000 kWh. These batteries will be charged onshore with COSCO envisioning a network of charging stations and depots to exchange the batteries along the river. In March 2023. COSCO reported that it had completed commissioning for elements of the power system making a key step toward the deployment.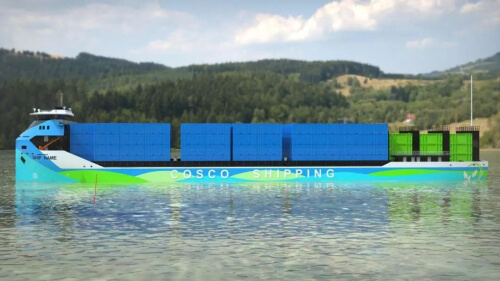 The route will stretch more than 600 miles on the Yangtze to the ocean (COSCO)
First steel for the vessels was cut at the COSCO Shipping Heavy Industries shipyard in December. Assembly for the second of the vessels began on May 8 at the shipyard. When deployed, COSCO says they will save the equivalent of 32 tons of CO2 emissions every 24 hours.
A total of 51 organizations are contributing to the project which also includes Panasia Shipping in addition to COSCO. The Wuhan Institute of Standards, Chengrui Power, and Lloyd's Register are among the organizations involved in the effort.
Last year, China launched the largest electric river cruise ship, which is operating in the area around the Three Gorges Dam and the first phase of an electrification project first proposed in 2018. The Chinese Ministry of Industry and Information Technology and the Ministry of Transportation jointly funded the project which is part of a broader effort aimed at electrification of the Yangtze River region.
In addition to the electric propulsion system, COSCO reports the ships will be equipped with an intelligent ship platform system and advanced situational awareness system. The application of the two systems they report will greatly improve the intelligence and safety of the ship.