China Launches New-Class Destroyer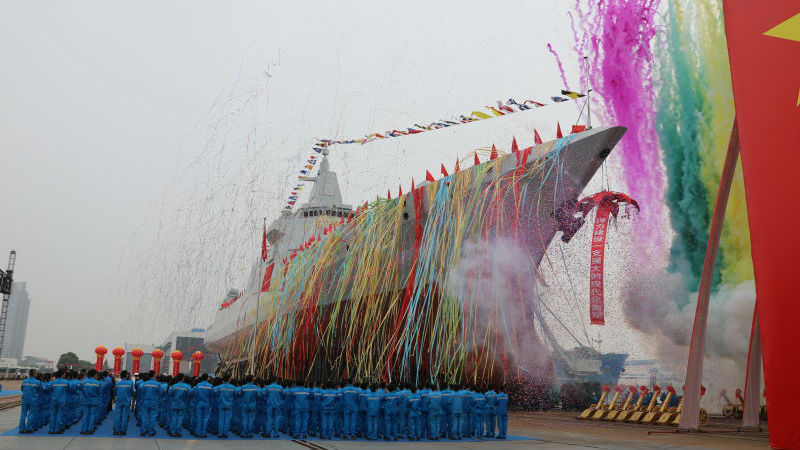 China's new 10,000-ton guided-missile destroyer was launched at Shanghai's Jiangnan Shipyard on Wednesday.
The new Type 055 destroyer was independently developed and manufactured by China, with the nation claiming to have made a series of technical breakthroughs in overall vessel design, information integration and assembly.
The new destroyer is equipped with new types of air defense, anti-missile, anti-ship and anti-submarine weapon systems and has has strong capabilities in information detection, air and missile defense and maritime target attacking. The Type 055 also features stealth characteristics such as a small radar cross section and low noise, infrared and electromagnetic radiation.
She will have more than 100 vertical launch tubes for missiles with the ability to strike targets up to 2,000 kilometers (1,240 miles) away. China's current Type 052 destroyers carry 64 missiles. The Type 055 is similar in displacement to the U.S. Navy's Arleigh Burke class destroyers which carry 96 missiles.
China's navy is expected to have 265-273 warships, submarines and logistics vessels by 2020, according to the Washington-based Center for Naval Analysis. The U.S. Navy currently has 275 such vessels.
Indian media reports have raised alarms over the launch, pointing out the destroyer is superior to any Indian Navy ship. CNN reports that India's new destroyers will be at least 2,000 tons lighter than the new Chinese ship and will carry fewer than half the missiles.
Another three Type 055 ships are expected to be built.