Breakbulk's Top 10 Companies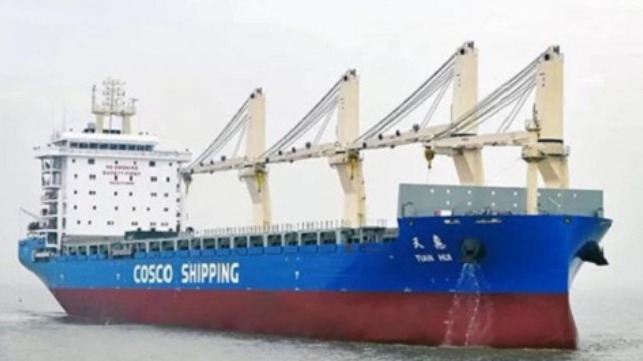 As of early January 2018, the 10 largest breakbulk operators by deadweight of multipurpose/project/heavy-lift tonnage combined deployed a fleet of 460 ships, says industry analyst Dynamar. The fleet has a total deadweight of 8,136,000 million tons and an aggregate lifting capability of 147,000 tons. The ships' average age is eight years.
Although some operators have reduced tonnage, overall capacity has remained the same as the previous year in terms of ships (460 units both years) while capacity is just two percent higher.
The analysis is based on the number of general cargo/multipurpose ships, with or without crane capacity, operated by the 10 operators. Such ships form the core of the breakbulk trades. The following vessels types have not been considered: OHGC, RoRo, vehicle carriers and specialist heavy load and open deck ships, as well as semi-submersible vessels.
Cosco Shipping Specialized Carriers (CoscoSSC) of Guangzhou has taken over, not for the first time, from BBC Chartering as the world's largest multipurpose operator by deadweight. The growth of its fleet by six units is due to newbuilding delivery. In 2013, the Chinese launched a newbuilding program comprising 12x 29,500-dwt/700 tons heavy-lift units, plus 11x 38,000-dwt/200 tons crane capacity. The last one of 38,000-dwt (among the largest multipurpose ships in the world) is due for delivery in the first half of 2018.
Having reduced its fleet by 13 to 146 ships/1,675,000 TEU, BBC Chartering of Leer has returned to the second place in the ranking. "Because BBC, through its parent Briese, has relative easy and quick access to tonnage, it may certainly not be excluded that it will be the other way round again, next year, taking over from the aforementioned Chinese again," says Dynamar analyst Dirk Visser. "Most certainly so if the expected, at least hoped for, improvement of the breakbulk market in 2018 comes true."
Dutch Spliethoff has meanwhile sold off its entire eight-unit strong 1990/2-built 12,000-dwt A-type fleet. Pending the delivery of six 118,000-dwt R-type ships currently being built, it has taken five 13,000-dwt vessels on time charter. These latter ships have helped the Amsterdam-based company to rise to the third spot in the current ranking although it still deploys, overall, the oldest fleet (2005-built). (Ships operated by Spliethoff's subsidiaries BigLift, Bore, Sevenstar, Transfennica and Wijnne Barends are not included in their parent's fleet.)
Compared to a year ago, Thorco has seen the largest fleet reduction, with the number of ships falling by 23 units/287,000-dwt to 48 vessels/754,000-dwt, relegating the Danish company to the fourth place, down one.
New in the ranking is Zeaborn of Bremen. In early February 2017, this still relatively young company acquired, against rather special conditions, Rickmers Linie including NPC Projects from Bertram Rickmers. In 2016, it had already taken over the commercial management of part of the Carisbrooke (UK) fleet and the chartering activities of the HC Group of Hamburg, among others. Altogether Zeaborne currently operates 42 multipurpose ships: Rickmers Linie's core fleet of nine 30,000-dwt/640 tons heavy-lift ships, eight 10,000-dwt/120-160 tons crane capacity vessels through HC Chartering and 25 11,500-dwt/120-300 tons geared vessels as Zeaborn Chartering.
Last May, AAL and Doehle put a stop to their short-lived alliance for breakbulk heavy lift services. To fill the gap left behind by its former partner, Singapore-based AAL has been increasing its fleet numbers, currently amounting to 14 owned vessels with each 700 tons heavy lift capability, plus seven 33,000-dwt chartered ships with 110 tons crane capacity each. Despite this three-vessel capacity expansion compared to a year ago, AAL remained the number six while its fleet is still the youngest, average six years.
Chinese/Polish Chipolbrok fell to the seventh place in the Top 10 ranking. The 20-unit-fleet includes four 37,000-dwt vessels deployed by the company's subsidiary Shanghai Hongfa Shipping, operating between the Far East and the East Coast of South America. Chipolbrok's longstanding main routes are, unchanged, the Europe-Asia and North Amerika-Asia corridors.
Although this company's fleet has increased by three units, Intermarine USA is listed, unchanged, at position eight by deadweight. The Americans' existing fleet increased from 40 to 43 units at present. Unchanged as well is that, with 11,300-dwt average, it has the smallest ships of the pack and: the largest orderbook of them all. The latter now counts 14 vessels, of which eight will have a heavy-lift capability of 900 tons each.
The 2018 breakbulk market and a bit beyond

Beyond doubt, the global economy is improving, says Visser. "The outlook for the coming five years in terms of GDP development and the growth of imports and exports have probably not been better ever since 2008. The breakbulk industry should undoubtedly benefit from this global recovery and enjoy an uptick in volumes.
"Both will be hard to get started, but maintenance to existing oil and gas installations can no longer be ignored; increasing oil prices should induce investment in new installations. Investments in shale gas, alternative energy, offshore wind turbines (in particular), and large-scale solar projects are expected to grow as well."
Information courtesy of Dynamar's biennial report: BREAKBULK - Operators, Fleets, Markets