Australian Icebreaker Nuyina Resumes Commissioning After Year's Delay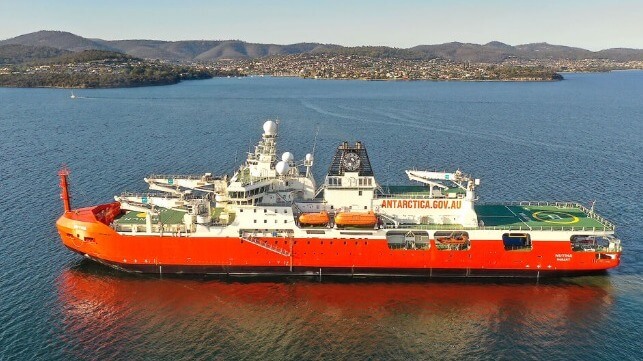 Australia's futuristic icebreaker research ship for missions to the Antarctic returned home after a year-long delay for repair and maintenance. The vessel which was reported to have cost $500 million to build is years behind schedule in its commissioning while it has experienced a series of teething problems. The Australian Antarctic Division (AAD) is now using the vessel for an end-of-season supply trip and then hopes to complete commissioning during the Australian winter before launching 2023-2024 season missions to Antarctica.
Delivered in September 2021, the icebreaker began to experience what ADD called expected problems even before it arrived in Australia for the first time. They noted that the vessel is one of the most complex scientific icebreakers in the world but it drew harsh criticism and global headlines for its early problems.
Built by Damen Shipyards Galati in Romania, RSV Nuyina suffered an electrical fault on its journey to its homeport of Hobart, Australia in October 2021. The Australian Antarctic Program (AAP) reported that it was a fault in the electrical system that powers a propulsion motor on the port shaft line. Two months later, her maiden voyage was delayed after issues were detected in the vessel's alarm and monitoring system software.
During the 2021-2022 season, the vessel carried out operations at Casey and Davis research stations in Antarctica as well as Macquarie Island. In April 2022, she headed for Singapore for planned maintenance as well as repairs to address issues with the couplings that connect the propulsion shafts with the clutches. While the repairs were covered under the vessel's warranty, a shortage of spare parts meant she missed the bulk of the 2022-2023 Antarctic season.
After a late-season supply mission, commissioning will resume of the futuristic icebreaker (AAP)
Australia chartered a vessel, the Happy Diamond, as a stand-in for the resupply missions. The vessel experienced its own issues, including a breakdown that delayed one of the trips, and in February 2023 grounded in Antarctica. Despite the problems, Australia was able to complete the critical resupply missions while also launching its million-year ice core project and establishing a deep field camp near the Denman Glacier.
RSV Nuyina spent a whole year at a Singapore yard to rectify her problems and returned to Hobart on April 24. ADD announced that it has lined up a busy program for the icebreaker. Before she reached Australia, preparations were already underway for her next voyage to the sub-Antarctic Macquarie Island in May. After the late-season expedition, the goal is to resume the delayed commissioning program.
"Identifying issues is part of the commissioning process for a new vessel and Nuyina will now prepare for a complex operation at Macquarie Island that will see hundreds of tonnes of equipment transferred by a combination of barges, workboats, and helicopters," said AAP.
After completing its mission in Macquarie Island, Nuyina will return to Australia before heading south again for the harsh environment of the Southern Ocean, a mission designed to conduct further tests of the vessel in some of the most challenging conditions on the planet that include testing in sea ice. Once she returns to Hobart, commissioning will be carried out on the ship's 150 science systems, a process that will include technology such as the moon pool, echo sounders, and winches.
While the vessel is still in its commissioning and testing phase, AAP is already working with its colleagues on plans for Nuyina's 2023-2024 season. They expect the icebreaker will be ready to undertake multiple voyages to Antarctica to resupply stations and conduct marine science research.