Amazon Funds Seaweed Farming at Offshore Wind Farm to Test CO2 Capture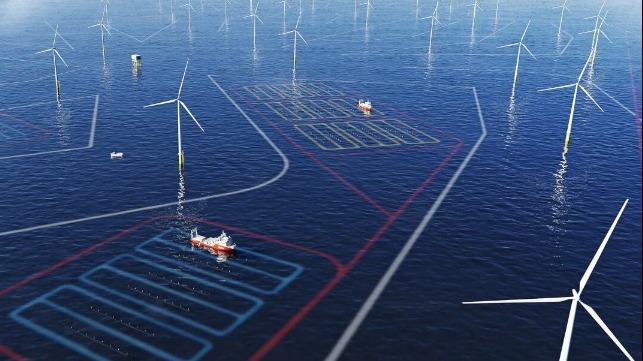 Internet giant Amazon is providing $1.6 million in funding for the development of the world's first commercial-scale seaweed farm, which will be located between the turbines in an offshore wind farm in the Netherlands. Part of a larger effort by Dutch authorities to make better use of the sea space within the wind farm lease areas, this project is designed to test and improve methods of seaweed farming, while researching the potential of seaweed to sequester carbon.
Know as North Sea Farm 1, the project is managed by a consortium of scientific researchers and partners from the seaweed industry, led by the non-profit organization North Sea Farmers. Amazon's grant will provide the investment required to construct a 10-hectare seaweed farm, which is expected to produce at least 6,000kg of fresh seaweed in its first year. They expect it will become operational by the end of 2023.
The funding will also support North Sea Farmers in analyzing and improving the farm's production capabilities. Researchers from the Plymouth Marine Laboratory, Deltares, and Silvestrum Climate Associates, working alongside seaweed extract manufacturers Algaia and maritime contractor Van Oord, will set up the farm and explore the potential of seaweed farms to remove carbon from the atmosphere. The researchers will use the information from the trial site to model the impacts of large-scale seaweed farming.
"Like trees, as seaweed grows it absorbs carbon from the atmosphere, and it can be used to create biodegradable packaging, as well as food and fashion products," explains Roeland Donker, Country Manager, Amazon Netherlands. "Seaweed could be a key tool in removing carbon dioxide from the atmosphere, yet it's currently farmed at a relatively small scale in Europe."
By locating the farm in previously empty space between turbines, the project can expand seaweed cultivation in the otherwise heavily used North Sea and increase the productivity of the area around the wind turbines. Other projects that are planned at other wind farms include the installation of floating solar panels to further supplement the productivity of the sites.
North Sea Farmers has championed the seaweed sector in Europe since 2014. According to the non-profit organization, if seaweed farming were to expand to occupy the entire space occupied by wind farms, expected to be approximately 1 million hectares by 2040, it could reduce millions of tons of CO2 annually. The group believes that the finding from the current study will help play a role in scaling the seaweed farming industry.