Methanol Orderbook Grows with Landmark Deals in Japan and China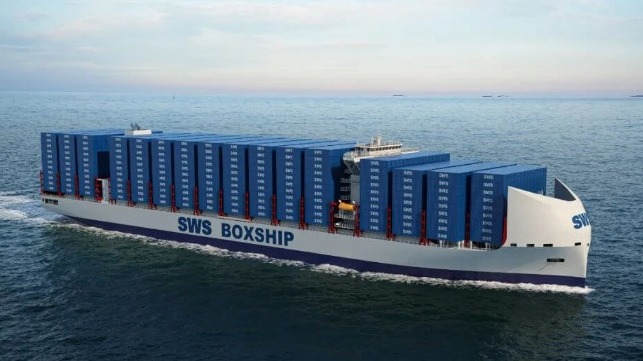 The orderbook for methanol-fueled or ready containerships continues to grow with both China and Japan reporting landmark orders. The recent batches of smaller vessels join the approximately 150 methanol-fueled containerships scheduled to be delivered in the next five years.
Momentum for methanol-fueled ships continues to grow as the best currently available technology to address decarbonization. Shipowners are moving to the technology to protect their investments in new ships and hopefully reduce the risk of stranded assets as the marine fuel sector moves forward but is not yet ready for ammonia or hydrogen-based propulsion. These investments are coming despite the lack of methanol fuel supply and concerns that the maritime need could outpace the available fuel supply for years to come.
Japan's Tsuneishi Shipbuilding reports it has expanded its work in methanol-fueled ships with the first order for containerships. This follows previous orders for two classes of bulk carriers. The containerships will earn several additional distinctions being the first in Japan to employ a class of dual-fuel MAN B&W engines which will be built by Mitsui E&S Co. They will be dual-fuel able to run on methanol and heavy oil. With a capacity of 5,900 TEU and up to 1,400 reefer containers, they will also be the largest containerships yet built by Tsuneishi.
The shipyard highlights that the unique design has main engines as well as all on-board generators, HimSEN Engine which will be supplied by Hy Hyundai and capable of running on methanol. Other than a small amount of pilot fuel, it will be possible to run the ships carbon-neutral using green methanol. The ships will also be outfitted to operate on shore power.
Other features of the Tsuneishi design are ships that will have an improved hull form and a large capacity shaft generator to further increase operating efficiency. In addition, they will employ an energy-saving device designed by NYK's MTI Co. It improves efficiency by up to four percent by regulating water flow through the installation of multiple fins in front of the propeller.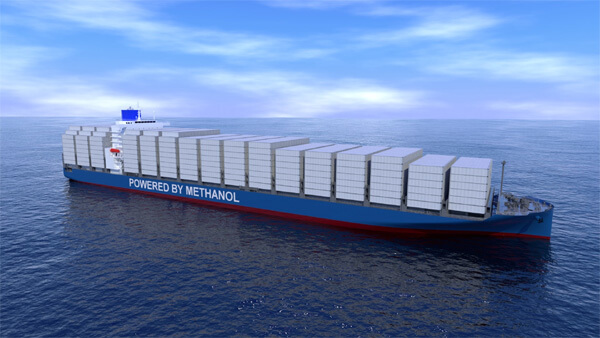 Japan's Tsuneishi Shipbuilding expanded its methanol orders with the first containerships (Tsuneishi Shipbuilding)
At the end of last week, China's Shanghai Waigaoqiao Shipbuilding Co., a subsidiary of China State Shipbuilding Corporation, and China Shipbuilding Industry Trading Co., also signed its first construction order for methanol dual-fuel containerships. They reported the eight vessels, which will be medium-sized with a capacity of 9,200 TEU, are being built for a well-known European liner company. The ships will be nearly 934 feet in length and a beam of nearly 150 feet and classed by Bureau Veritas (BV). The ship type is optimized from multiple dimensions such as aerodynamics, thermal energy management, energy distribution, ventilation flow field, and lashing according to the shipyard. It not only has a large carrying capacity, but also has low fuel consumption at contract speed, and the average power based on the operating profile is lower than similar vessels giving it the advantages of cost-effectiveness, large load capacity, and low fuel consumption.
Shanghai Waigaoqiao highlights that the order is also part of its batch approach to shipbuilding to increase efficiency in design and construction. They noted that the yard has built 18,000 and 20,000 TEU vessels and expanded its batch approach with a design for 7,000 TEU medium-sized containership, and so far have received orders for 34 ships. The eight 9,200 TEU ships advance the mid-sized design and they view them as the beginning of a new large class of ships.