Klaveness Cuts More Carbon From its Low-Emission Combination Carriers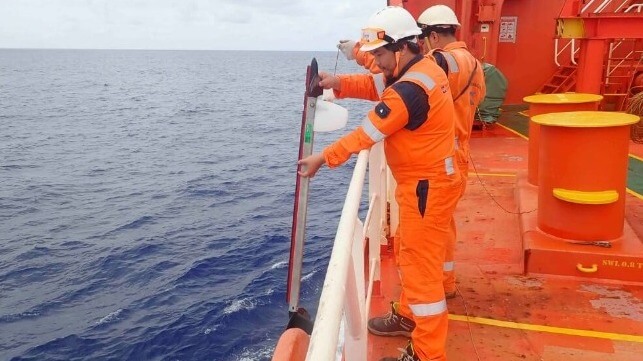 Klaveness Combination Carriers (KCC) the Torvald Klaveness division specializing in unique bulker-tanker vessels, has agreed to expand the use of a crew-operated hull cleaning system aboard the vessels in its fleet.
KCC operates some of the maritime industry's only remaining bulker-tanker combination ships (historically known as ore-bulk-oil carriers or OBOs). The design was originally popularized as a way to give vessels a way to carry more kinds of cargo, thereby reducing ballast voyages. The company's modern design is known as the CLEANBU class, and it has the capacities of an LR1 product tanker or a Kamsarmax bulker.
Since these ships do not usually sail empty, they are fully 40 percent more fuel-efficient per tonne-mile than their conventional counterparts, the company says.
KCC wants to increase efficiency further through technical interventions like shaft generators, shore power and frequent hull cleaning. Among other trials, the company has tested out the Shipshave mechanical hull cleaner on four vessels over the last two years, and it discovered fuel efficiency improvements in the range of 2-5 percent.
Working with the crews and with the shipmanager, Shipshave engineered a new version of its tool, the Shipshave ITCH. Its success prompted Klaveness to invest in the system for the rest of its combination fleet.
"We believe innovation is well nurtured this way. Shipshave, and early mover KCC, has worked well together. We are very happy to supply KCC with a solution aiding in their pursuit of very ambitions sustainability goals. The savings obtained using ITCH makes an impressive ROI," said Eirik Eide, Chief Commercial Officer at Shipshave.
The device is relatively simple: it has a long cleaning brush on the side of its body, and a tow attachment point towards the nose. The crew deploys it over the side from the bow, and it works its way aft while the ship is in motion. A digitally-controlled fin takes advantage of the moving water to direct the brush up and down the side of the ship. While it can't reach the bottom of the hull, or the moulded areas forward and aft, it can clean a large proportion of the wetted surface at low cost. Stolt Tankers is also trialing the system on half a dozen vessels.