On Saturday, as Typhoon Nesat swept through Taiwan, the high-speed ferry Natchan Rera was torn from her moorings by high winds and pushed into the Taiwanese Navy frigates Lan-Yang and Huai-Yang. Navy officials said that the impact put a three-foot crack in the hull of the Lan-yang on the port quarter and dented the stern of the Huai-Yang.
The aluminum-hulled Natchan Rera suffered greater damage, and was reportedly holed above the waterline. The Taiwanese Navy has launched an investigation into the circumstances of the accident.
The Incat-designed Natchan Rera has a sea speed of 40 knots fully loaded, with accommodations for up to 800 people, 24 buses and 300 cars. She ordinarily operates a coastwise route in eastern Taiwan, as well as a route between Taipei and Pingtan, Fujian Province. As of Monday afternoon, she was moored at Keelung City, Taiwan.
The Lan-Yang and Huai-Yang are former U.S. Navy Knox-class frigates dating to the 1960s (ex names USS Joseph Hewes and USS Barbey). They were sold to Taiwan under the Security Assistance Program in the late 1990s.
Category 1-strength Typhoon Nesat and the storm that followed just after, Tropical Storm Haitang, injured 130 people as they passed through Taiwan. Wind gusts from Nesat exceeded 80 knots in Taipei. Widespread flooding was reported, and rainfall hit 5-13 inches in many locations, with 44 inches around Pingtung, a city near Kaohsiung.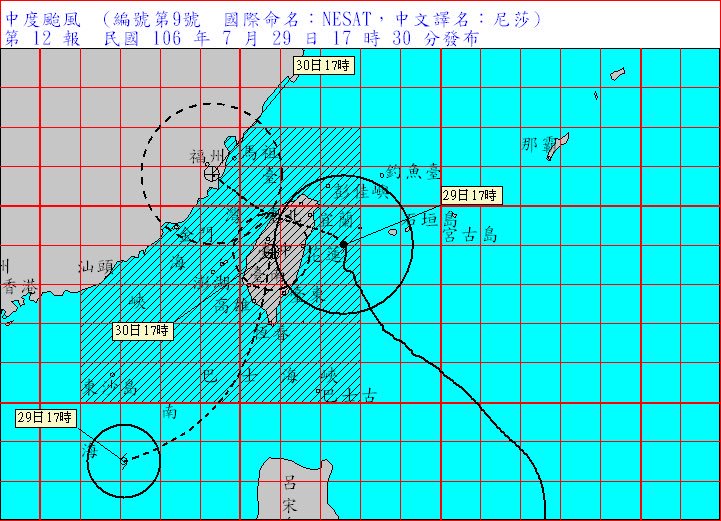 Tracklines for Typhoon Nesat, headed west-northwest across northern Taiwan, and Tropical Storm Haitang, approaching Taiwan from the southeast (social media)