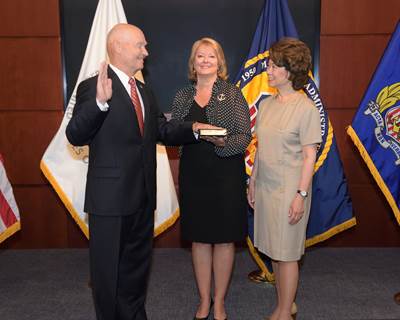 Secretary of Transportation Elaine L. Chao has given the oath of office to Rear Adm. Mark H. Buzby (USN, ret.'d), formalizing his appointment as the head of the Maritime Administration. Adm. Buzby takes over from executive director Joel Szabat, who has headed up the agency since the departure of former administrator Paul "Chip" Jaenichen in January.
"Our maritime industry is facing unprecedented challenges in our increasingly globalized world," said Secretary Chao in a statement. "Administrator Buzby's extensive naval and maritime background will serve as a tremendous asset to the Maritime Administration."
The Maritime Administration (MARAD) promotes the use of waterborne transportation, and is responsible for supporting and maintaining a U.S. merchant marine that is capable of service in times of national emergency. MARAD also oversees the U.S. Merchant Marine Academy, the Maritime Security Program and the National Defense Reserve Fleet.
"I grew up on the water, piloting vessels from the time I was nine years old, and have a lifelong love for the sea," Admiral Buzby said. "It is one of the great honors of my life to serve as Maritime Administrator, and to start working to grow and revitalize the U.S. Merchant Marine, and ensure our nation continues its maritime leadership."
Rear Adm. Buzby served as the commander of the U.S. Navy's Military Sealift Command from 2009 until 2013, when he retired from his 34-year military career. Before MSC, he briefly commanded Joint Task Force Guantanamo, and he has served in a variety of high-level positions within the Navy staff. As a surface warfare officer, he deployed on USS Connole, USS Aries, USS Yorktown, USS Shiloh and the USS Carney. He was the sea combat commander for Destroyer Squadron 31 during deployments in support of Operations Southern Watch and Enduring Freedom. Rear Adm. Buzby has received the Navy Distinguished Service Medal, the Bronze Star and numerous other personal and unit awards, and he is a graduate of Kings Point (Class of 1979).