The Armed Forces of the Philippines are engaged in an all-out fight against the Abu Sayyaf terrorist group on the islands of Sulu and Basilan, and in recent weeks they have had considerable success in rescuing hostages and eliminating group leaders.
On Tuesday, Major General Carlito Galvez Jr. of Western Mindanao Command said that the chief engineer of the Super Shuttle Roro 9, Laurencio Tiro, was rescued by the Fourth Special Forces Battalion in Hadji Mohammad Ajul township, a peninsula at the eastern tip of Basilan. He is the sixth Abu Sayyaf hostage recovered so far this month.
Tiro was found in the same region as Capt. Aurelio Agac-Ac, the Roro 9's master, who escaped and reached Philippine forces on March 25. The two men were abducted from their vessel by armed men on March 23.
"The recent case of rescue and recovery of Mr. Agac-ac and Mr. Tiro from the clutches of the terrorist ASG is the success of a military-political-social approach in thwarting violent extremism and criminality from establishing foot holds in our communities," said Major General Galvez.
Separately, the leader of a gang with connections to Abu Sayyaf was arrested on Thursday by a joint police / military team on Capual Island, just off the northeast coast of Sulu. After a firefight that left one gang member dead and one wounded, leader Suadi Kahil Hamja and four of his followers were taken into custody. The gang stands accused of a variety of crimes, including drug trafficking and arson.
In addition to the arrests, the authorities confiscated a large cache of weapons, including a .50-caliber machine gun, a mortar, two grenade launchers and an assortment of rifles and ammunition. A military spokesman told the Philippine Star that Hamja's gang may have been providing weapons to Abu Sayyaf.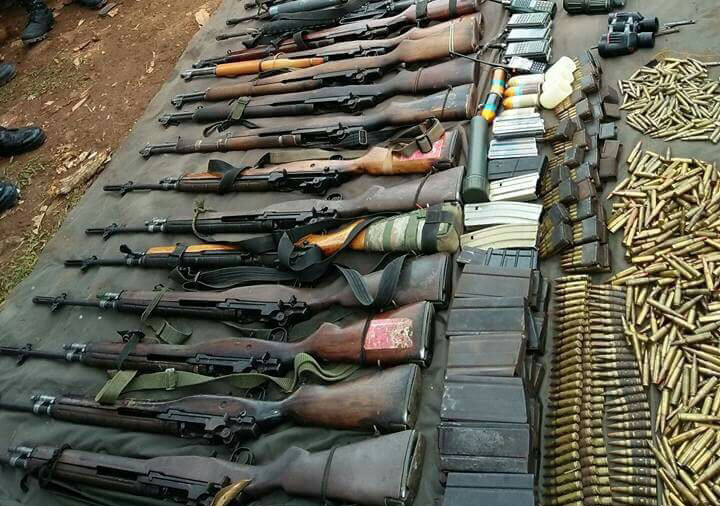 Arms seized from Suadi Hamja's gang, including vintage M1 Garand rifles (Police Regional Office / ARMM)