Following two years of development and testing, Vryhof Anchors, the Dutch world leader in the market for innovative and customer-focused anchoring and mooring solutions, announced the launching of a revolutionary new anchor: the STEVSHARK®REX. Already praised by insiders as a 'game changer' within the mooring industry, the application boundaries of drag embedded anchors can now be expanded to the most remote and challenging territories on earth. Super-strong soils no longer represent an obstacle, thereby opening up economic opportunities for operators to develop new energy resources across a much larger area worldwide.
Leopoldo Bello, Managing Director of Vryhof Anchors states: "The present world economy is volatile, uncertain, complex and ambiguous. The world's population is now well over seven billion and keeps booming. We have reached a stage where the amount of resources needed to sustain our population exceeds what is available. For this reason oil and gas companies are already redefining their boundaries and are looking for new realities, new challenges, new opportunities for tomorrow's generation by moving into ever-more remote territories. New technologies are the driving factor behind these many opportunities and at Vryhof we are proud to be playing a prominent role in making this happen by introducing what is probably the most anticipated development in the mooring industry over the last decade. The STEVSHARK®REX is intended for anchoring under challenging and hard ground conditions, anywhere in the world. It is a real game-changer and a perfect example of how Vryhof supports its customers in optimizing production, minimizing downtimes and speeding up their operations. The STEVSHARK®REX is better, smarter and stronger, and delivers holding power in extreme conditions unmatched by any other anchor."
Senol Ozmutlu, Projects Director of Vryhof Anchors, explains the motivation behind developing the STEVSHARK®REX: "At Vryhof Anchors we offer anchoring knowledge based on long practical experience, as well as expertise in geotechnics, experimental research, modelling and testing. For almost half a century, we have continuously set the benchmark in offshore anchoring technology serving oil and gas, renewable energy and civil and construction sectors. We constantly strive to deliver improvements for the offshore industry by integrating ground-breaking technologies. This anchor will enable operators to develop fields and renewable projects which, until now, could not be economically developed in a conventional way. Unlike other anchors on the market, the greater flexibility in vessel and timing options of the STEVSHARK®REX can effectively penetrate even the hardest seafloors and perform predictably."
Vice President & CTO Evan Zimmermann at Vryhof further underlines the essence of constant innovation: "If you want to be successful in developing the right products, you must first be able to identify trends as early as possible. Only then can you gain a full understanding of the drivers behind future offshore projects, be it oil, gas or renewable energy. We at Vryhof develop technology that enables our clients to meet future challenges, even before they are recognized in their projects or by their customers. That ability makes our company unique and guarantees the sustainability of Vryhof as a leader in the business."
Worldwide testing
The main goal of developing the STEVSHARK®REX was to expand the suitability domain of drag embedment anchors in challenging geotechnical areas. One of those areas is the Arctic, with its hard soil conditions, subsea permafrost, complex gravelly soils and over-consolidated clays or tills. Other difficult areas in terms of sub-seabed types include Australia and the United Arab Emirates, with their typical complex cemented soils of carbonite origin or calcarenite to calcilutite limestone rocks. The future floating wind farms or other renewable-energy development areas are located in relatively complex geological settings where standard anchors may not work.
Senol Ozmutlu adds: "While developing the STEVSHARK®REX, we observed the penetration behavior, stability and capacity of the 'old' STEVSHARK® anchors. Combining these observations with rock excavations and cutting knowledge, we identified the critical features of this new anchor. But even before we start building scale models, we kind of need to solve the problem in our mind. What can we expect when you start to drag something in such hard soil or soft rock? What will happen to the material on the seabed? What should an anchor look like in order to penetrate into the seabed? Essentially, the first step is to develop a conceptual model in your mind, which can be passed on to the designers for further detailing on the drawing board." The outcome of this passionate and iterative conceptual-model development process has resulted in a totally new anchor with radically new fluke and shank geometries.
The Projects Director continues: "After testing several fluke and shank models at laboratory scale, the best model is selected, produced in 7 kg size and extensively tested in our R&D Centre. The laboratory scale tests were conducted in different soils, such as sand, clay, gravel and in an industrial material conditioned to stiff properties. Only after satisfactory laboratory tests did we produce the model scale test anchor of 7 tons for field testing offshore. In 2016, the offshore tests were carried out at two oil fields with hard sub-seabed soil conditions. A total of 15 tests were carried out at three locations selected by a major Norwegian oil operator. The selected test locations are famed for their anchoring problems where the MODUs had to use piggy-back anchors to reach the required holding capacity. Each and every test proved successful, even exceeding our expectations." Depending on the location, the holding power of the STEVSHARK®REX proved to be 22% to 47% higher than the older STEVSHARK® version. Nonetheless, Vryhof Anchors continues to accumulate more test and experience data with the STEVSHARK®REX. For that purpose, two bigger anchors of 18 tons in size were built and shipped to the United Arab Emirates and Australia. The anchor in the UAE is currently being used by a rock cutter suction dredger on cemented soils and calcarenite bedrock. The initial results received from the field are positive. The anchor in Australia shall be tested soon in areas with hard soils and carbonate rocks.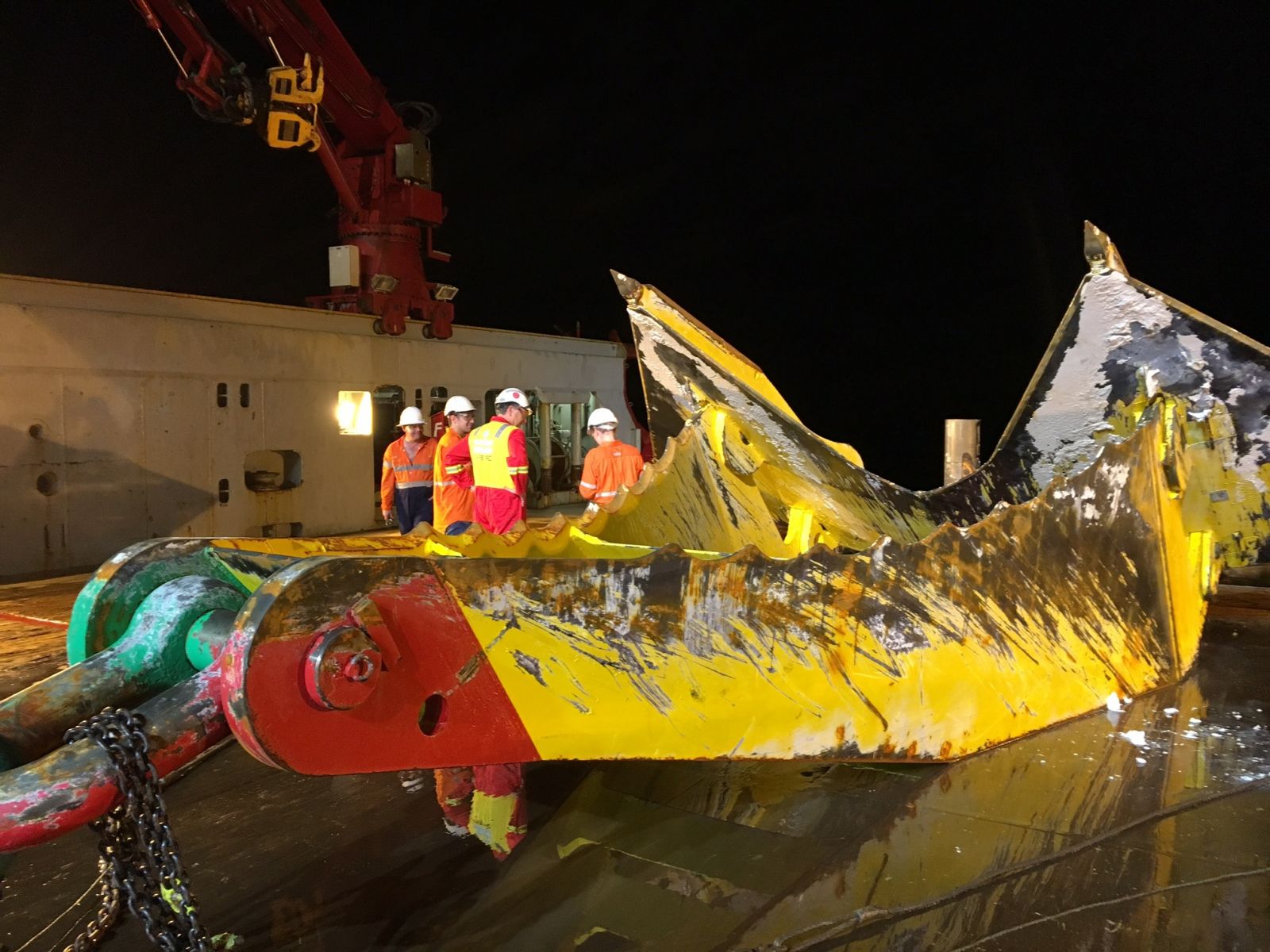 The products and services herein described in this press release are not endorsed by The Maritime Executive.