An interview with Steven Roberts and Ashley Haw, Managing Directors, Regal Maritime Solutions:
Q: To begin with, Steven, can you explain what Regal Maritime Solutions does for the benefit of those who don't know anything about the company?
A: We provide security to maritime assets that operate in high risk areas. Our services are provided worldwide however our core area of operations are mainly in the Indian Ocean, West Africa and South East Asia. Specifically, we deploy teams of armed or unarmed guards on board ships and other maritime assets to deter acts of piracy and/or robbery.
Our teams provide advice and reassurance to the ship's Master and also assist in the implementation of vital security hardening of the vessel, including such tasks as installing razor wire and providing advice on the deployment of fire hoses to be used as a deterrent. In addition, they deliver security briefings, crew training and organise security drills for the ship's crew to ensure that everyone onboard reacts in a safe and focused manner in the event of an attack.
Q: How big a problem is piracy?
A: In certain parts of the world, it's a major problem. Some believe it is no longer an issue in the Indian Ocean but recent reports from our teams on board our client vessels who are operating in these waters continuously show this to not be the case. There has also been a severe recent rise in piracy incidents in South East Asia. Naturally it affects the seafarers themselves – no shipowner wants to see their crews come to any harm – but it also has a significant cost implication. Vessel owners and operators see their insurance costs go up and they have been forced to take different, and longer, routes to avoid piracy-prone areas. Implementing a security detail to compliment BMP guidelines does save lives, reduce the overall costs of operation and increases vessel productivity.
Q: How long has Regal Maritime Solutions been in business?
A: The company was established in 2011 by two ex-Royal Marines, around the time that the industry really came into its own. Prior to this, both the directors of the company spent considerable time at sea working as freelance guards in some very challenging situations when there was very little/no regulation in the maritime security industry during the period of 2008 – 2011. Today, the maritime security industry is fairly well established and it is much better regulated now as well. Regal Maritime Solutions have developed as a market leader in the industry having achieved UKAS ISO/PAS 28007:2012 status. This standard has recently developed to a full ISO standard which our company will be able to achieve once UKAS have audited the accreditation bodies. We estimate that this will take place towards the end of 2015/beginning of 2016.

Since the company was founded, it has experienced consistent and healthy organic growth. Our Head Office is still in Hertfordshire, UK however we have implemented strategic capacity to ensure a global reach. Our personnel come from a large and diverse pool including former Marines, Special Forces and specially trained naval personnel from UK, Europe, India and the Philippines.
Q: What can you tell us about your customer base?
A: Generally our clients are as diverse as the areas that we operate in. Our largest clients are commercial ship owners, charterers, managers and in some cases, insurers however the company does have a developing client base with cruise ship operators, pleasure vessels and fishing fleets. All of these assets require on board security teams which will be either armed or unarmed depending on their area of operation.
We also deploy teams to protect offshore oil & gas platforms and they will typically deploy for a two to three month period before being relieved. In addition we provide security for vessels that are moored in a port for a prolonged period of time in a wide variety of situations. The client may be a high net worth individual looking to maintain a certain image by employing a maritime security detail on board their vessel. In this situation the security detail may be required to double up as a close protection detail when the client decides to go ashore. At the same time in a different part of the world we may have a client vessel that is discharging a cargo in a high risk port and it may be conducting loading/unloading operations in the port for weeks at a time. In that situation our team will be required to conduct wandering patrols around the vessel, possibly control people coming on board/leaving the vessel and deterring stowaways or robbers. Every scenario has its challenges but Regal Maritime Solutions have the knowledge to go that extra mile for our clients and deliver 'value added service' which the majority of security providers do not have the knowledge or motivation to match.
Q: Why has Regal Maritime Solutions decided to exhibit at Transport Security Expo?
A: We have been interested in the show since last year which we attended as a visitor but other exhibition commitments meant we were unable to exhibit. We see Transport Security Expo as an excellent forum for promoting Regal Maritime Solutions and for giving existing clients and potential clients from both the UK and overseas the opportunity to meet senior management and experienced members of the operational team. It's a chance to explain and show how Regal Maritime Solutions conduct ourselves because the way in which our industry is presented in the media isn't always accurate. Our equipment sets do include legally purchased and registered high calibre firearms and our personnel conduct a vigorous selection process and an extensive training package, therefore it's extremely important to demonstrate this to the market and show how we comply with industry regulation and guidelines.

It's also an opportunity for us to network and to learn about developments in maritime security and more generally the wider maritime industry, including all the technological advances.
Q: Finally, can you tell us what you will have on your stand?
A: The main focus will be on the opportunity to meet our senior managers and experienced members of our operational team who will be able to talk about their actual experiences. There will be a video display of our security teams whilst on deployment and in addition, we plan to give visitors the opportunity to complete some of the aptitude and logic testing that we put our guards through to demonstrate our stringent recruitment and training processes. We are also aiming to have some replica equipment on the stand to show what the teams carry with them on board ship.
Regal Maritime Solutions provide bespoke security solutions to vessels against acts of piracy worldwide.
Transport Security Expo - stand K10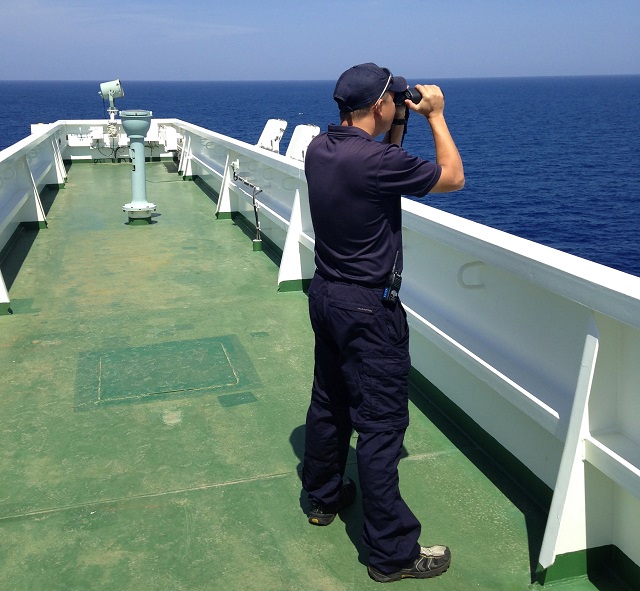 The products and services herein described in this press release are not endorsed by The Maritime Executive.