Singapore-based forestry shipping specialist Masterbulk has recently completed bow replacements on two of its vessels.
"These modifications will provide fuel efficiencies of around 5.3 percent," says Nick Fisher, CEO of Masterbulk. "This has been a significant capital investment in innovation and operational efficiency. These replacements cost approximately $850,000 per vessel."
The savings evaluation was carried out by DNV GL, the drawings were done by SDARI Shanghai, and the construction occurred at Chengxi shipyard in China.
"The bow changes have been driven by a drive for efficiency and fuel savings. At present bunker prices for regular 3.5 percent fuel, these modifications would lead to savings of (very roughly) $120,000 per year," says Fisher. "If a vessel operates extensively in ECAs, the yearly saving could likely exceed $200,000."
Each vessel's modification took approximately 20 days and was conducted during a routine dry docking. The initiative qualified for a grant under Singapore MPA's Green Initiative.
"Over the last few years there has been increased regulation and concern around shipping CO2, Sox and NOx emissions," says Fisher. "New certification and reporting requirements have meant that shipping companies (down to the individual vessel level) need to have reports to prove they are reducing CO2 and SOx/NOx emissions. The work we have done over the last 12 months will have a significant impact on our ability to benchmark our fuel use and improve performance."
Forestry Specialist
Founded by Norway's Westfal-Larsen in 1995, Masterbulk has built up a fleet of 20 supramax open hatch gantry crane/jib crane vessels specializing in the forestry trades. These vessels are some of the most advanced bulk carriers in operation, notably in the unitized dry bulk, high-care, and project cargo shipping segments.
The nature of this cargo, for example paper and forest products, means that our safety and operational standards have to be the best in the business, says Fisher. "To ensure the highest standards of vessel operation and cargo care, we have adopted the same safety standards and self-assessment standards (TMSA) as adopted by the tanker sector. We see this as a basic requirement to meet our clients' needs."
The open hatch gantry crane vessel offers many advantages for transporting goods by sea, says Fisher. Its many holds make cargo segregation easier; the gantry cranes ensure faster and more efficient loading and discharging in adverse weather conditions; and the box-shaped holds and open hatch concept allow unobstructed access to cargo. "These features offer our customers not only financial advantages but also virtually damage-free transportation of goods," he says.
Masterbulk celebrates 20 years in Singapore this year.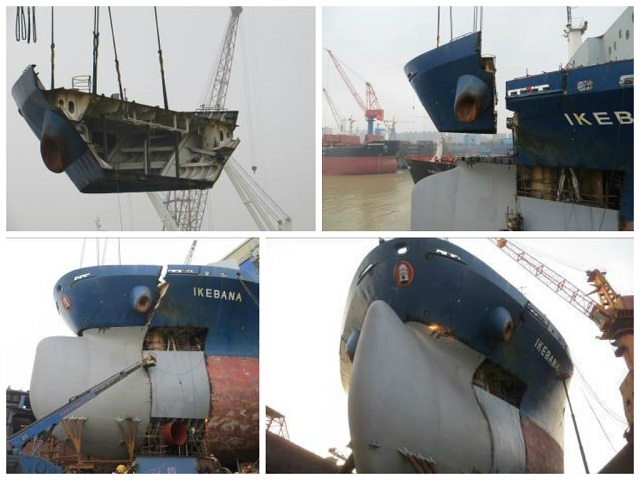 The products and services herein described in this press release are not endorsed by The Maritime Executive.