Ultra-Fast Vessels to be Part of Anti-Drug Trafficking Operations in Caribbean
The National Air and Naval Service of Panama (Servicio Nacional Aeronaval - SENAN) has taken delivery of four Interceptor 1102 vessels from Damen Shipyards Group. The President of Panama, Juan Carlos Varela, performed the christening ceremonies of all four vessels on 6 February 2017.
Coinciding with the vessel handover, SENAN also signed a second contract with Damen for an additional batch of four Interceptors. Both contracts include a comprehensive after-sales package that consists of training, spare parts and maintenance.
Talking about the inaugural contract with SENAN, Damen Sales Manager Americas Pieter Becker states: "We are happy and very proud to welcome SENAN as a new client. This is a very professional organization with whom we are looking forward to building a strong relationship."
SENAN will mobilize the four new vessels from its Fort Sherman Naval Base located at the Caribbean end of the Panama Canal. The vessels' primary function will be to combat illegal drug-trafficking activities in the surrounding area.
Special force ops
To this end, the Damen Interceptor 1102 is an extremely suitable choice of boat. Its low weight construction from fiber reinforced polymer composite materials combined with twin Volvo D6 engines deliver outstanding results. "This is an ultra-fast vessel," highlights Mr. Becker. "It can reach speeds of more than 55 knots." Contributing to such high speeds is the vessel design: the single chine hull reduces the amount of impact in heavier seas and improves high speed maneuverability.
Crew ergonomics and safety are also important aspects of the Interceptor 1102 design. Damen has carried out a substantial amount of R&D to optimize both these matters for the six persons on board (two crew plus four additional naval or security personnel).
Such specifications make the 11-meter long Interceptor also ideal for other maritime security operations like anti-smuggling, anti-terrorist, rapid response, surveillance and Special Forces operations.
The full package
Construction of all the Interceptor 1102 vessels is being handled by Damen Shipyards Antalya in Turkey. "We handed the first four vessels over to SENAN just 12 weeks after the contract became effective," says Mr. Becker, highlighting the benefits of Damen's stock building strategy that can be seen in such short delivery times. "And now the after-sales phase begins – we will be providing SENAN with a broad service package comprising training, spare parts and our maintenance management system."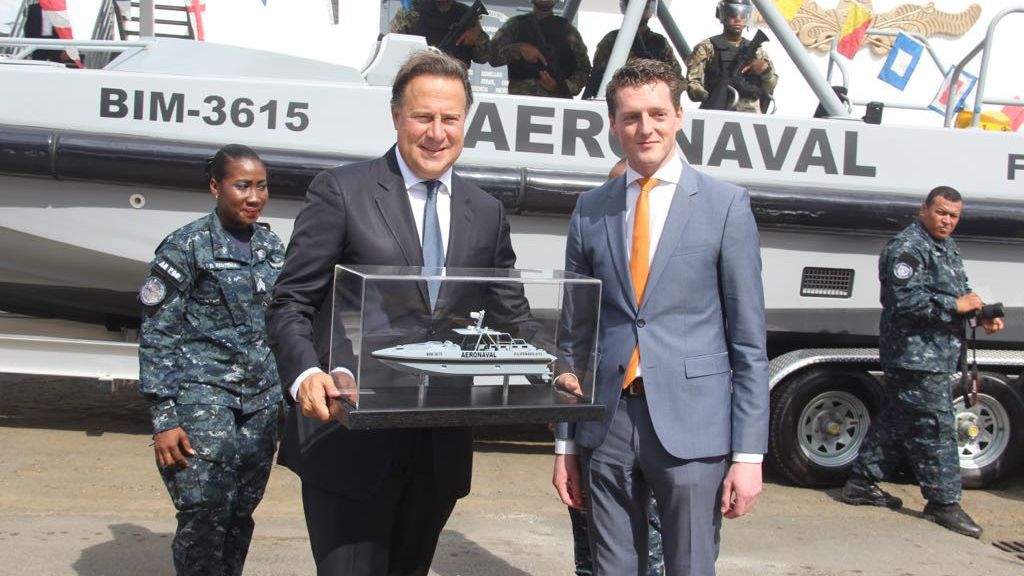 From left to right: Juan Carlos Varela (President of Panama), Pieter Becker (Sales Manager Americas, Damen Shipyards Gorinchem)
The products and services herein described in this press release are not endorsed by The Maritime Executive.