On 20 January in Dubai Coltraco Ultrasonics were delighted and honored to have been invited to deliver a presentation and question & answer session to the UAE Branch of IMarEST.
We thank the Officers of the UAE Branch of IMarEST and particularly Mr Nikeel Idnani, the Honorary Secretary, IMarEST UAE Branch for his great courtesy and kindness in supporting us and our marine partners in the UAE, Captain Peter Machado of Fuji Middle East for making this wonderful evening possible. Coltraco Ultrasonics Limited is a leading OEM in the design and manufacture of ultrasonic equipment principally engaged in the fields of monitoring :

• Ships CO2 & NOVEC™ 1230 fire suppression system contents and in
• The watertight integrity of ships hatch-covers, watertight compartment doors and Multiple Cable Transit areas

Coltraco Ultrasonics is a British company. Mr E C Hunter was at sea for 27 years with the Royal Navy and for 5 years with the UK's Admiralty Research Laboratories specializing in SONAR. In 1987 Mr Hunter began developing the world's first portable ultrasonic liquid level indicator, aiming to replace the often dangerous and highly time-consuming physical weighing of ships CO2 and Halon cylinders or the testing them with radioactive-sourced liquid level indicators made then by Ginge Kerr and Kidde Graviner in Europe and Nihon Kenki K. K. and Hidehira Inc in Japan with clean, environmentally safe ultrasonic technology. In those days radioactive-sourced units began to have restrictions imposed on them in their IATA transportation, storage and licensing, effectively making them expensive and difficult to move.

During this developmental phase the company received valuable support from Unitor Ships Service (now Wilhelmsens Ships Services), the Royal Navy and the US Navy and we began to appreciate the scale of the challenge in that larger commercial ships held over 600 x CO2 cylinders installed in 2-3-4 banked rows of cylinders. The issues of corroded, rusted or re-painted cylinders also began to be made clear to us. All of these develop small pockets of air trapped within the oxidized cylinder surfaces, making it difficult to pass successfully conventional ultrasonic signals required to monitor their contents of CO2 or Halon. Indeed, Halon itself was soon to be prohibited from new installations due to its high ozone-depleting factor and was eventually banned under the Montreal Protocol. Government users however were granted exemption and permitted to maintain these Halon cylinders in use for some years.

The company therefore began developing a specialised ultrasonic technique to account for poor surface condition cylinders and manufactured the world's first portable Portalevel™ ultrasonic liquid level indicator for ships in 1991 together with the world's first Marine Extension Rod which enabled the sensor to be passed between the 2-3-4 banked cylinder rows. These spaces were typically 25mm between each cylinder. Today they can be as little as 14 to 16mm and we have designed the 12mm diameter Mini Marine Extension Rod to account for these smaller-spaced installations in Asian-built vessels. Equipped with the Marine Extension Rod the unit was configured in its early days as Portalevel™ Marine. Later in the 1990's we received UK MOD and NATO Stock Numbers for the products and equipped 110 ships with the US Navy for testing on their High Pressure Halon systems.

Portalevel™ MAX portable liquid level indicator for Chief Engineers

Today we have 8 individual model types of Portalevel™ and in marine and offshore oil and gas use there exist 4 types :

• Portamarine™ - the most widely used unit in shipping CO2 applications and equipped with D rings to enable the crew user to operate the Marine Extension Rod "hands-free"
• Portalevel™ MAX – our UL-approved flagship model for marine and offshore use with cO2, NOVEC™ 1230, FM-200™, FE-13™, FE-25™, FE-36™, HFC-225 & HFC-227
• Portalevel™ MAX Marine – as above but fitted with the Mini Marine Extension Rod
• Portalevel™ Datalogger Marine – able to record and download 1,000 cylinder readings for evidential record-keeping and analysis, and fitted with the Marine Extension Rod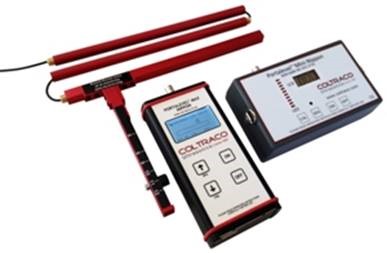 Portalevel™ Range of portable liquid level indicators – Fire Safety

• We design liquid level indicators to identify the liquid level, not as some do and manufacture units that need to have their readings confirmed by other means such as weighing or calculations.
• We support our units with 24/7 technical support, still repairing 20 year old units, still offering credits on old model types applied against upgrades, and all underpinned with optional through-life "total care" maintenance programs
• All our units are supplied in waterproof carrying cases with sensor, cable, gel and operating instructions included as "ready-to-use" and "ready-to-go" packages

Portascanner™ - portable watertight integrity testing for Marine Engineers – Hatch-covers, Multiple Cable Transit Areas & W/T Doors on Ships & Offshore Oil and Gas Installations


During various trials with shipping and ship management companies it was brought to our attention that there existed concerns within Dry Bulk shipping operators as to the watertight integrity of their hatch-covers. Catastrophic water ingress into the forward hold could ultimately lead to vessel capsize, but even light water ingress could lead to cargo damage and vessel instability. The key methods to test these was high pressure water hose testing or chalk testing, both time-consuming and accurate in very generic terms. The principal issue for us in ultrasonic terms was the sheer volume of the space of a ships Bulk Carrier holds. We calculated that we needed to fill the space with 45,000 m3 of ultrasound. The company began to extend its research into airborne ultrasound and to make it semi-directional. We eventually manufactured Portascanner™ the world's first dedicated portable ultrasonic watertight integrity test indicator for ships hatch-cover testing.

It is generally accepted that leaking hatch covers are a principal cause of cargo wetting. Hatches leak for a variety of reasons, but mainly because of poor maintenance or failure to close them properly. Leaking or badly maintained hatch covers can lead to more serious consequences than wet cargo – flooding, accelerated corrosion or even loss of the ship. A watertight hatch cover is a cover designed to prevent the passage of water in either direction under a head of water for which the surrounding structure is designed. A weather-tight cover, is a cover designed to prevent the passage of water into the ship in any sea condition. Hatch covers are constructed to be weather-tight, which means that, in any transient condition, water will not penetrate into the ship through the covers or the double drainage system. However, it is apparent that minor leakage into a cargo hold during a hatch cover test is often erroneously considered to be within a weather-tight standard; in practice, no leakage is the requirement. Many mariners think hatches are robust, monolithic structures, thereby failing to appreciate the small tolerances on panel alignment and gasket compression. For example, 4mm wear on the steel-to-steel contact is sufficient to damage rubber sealing gaskets beyond repair; 5mm sag along the cross-joint can cause a large gap between the compression bar and gasket. It is better to think of hatches as complex, finely-made structures, to be handled with care. Source : Standard Club, A Masters Guide to Hatch Cover Maintenance.

Douglas Faulkner, Professor of Marine Architecture and Ocean Engineering at the University of Glasgow, published a lengthy and highly analytical paper in 2001 examining the M/V Derbyshire's loss in light of the emerging body of scientific evidence regarding the mechanics of freak waves. Prof. Faulkner's paper won the Royal Institution of Naval Architects' (RINA) award for excellence that year. Professor Faulkner noted that given the meteorological conditions, and the length of time she was exposed to the peak conditions of the storm, it was almost certain that the M/V Derbyshire would have encountered a wave of sufficient size to catastrophically endanger her. He concluded, "Beyond any reasonable doubt, the direct cause of the loss of the MV Derbyshire was the quite inadequate strength of her cargo hatch covers to withstand the forces of Typhoon Orchid."

Over the years we have refined these airborne ultrasonic techniques, learning to convert the ultrasound into an audible form, a process known as heterodyning. Today a standard Portascanner™ unit is equipped with both a linear LCD display and a set of head-phones enabling the operator to pin-point the leak-site in the most mathematically accurate format. So many OEM's attempt to convert standard ultrasonic leak detectors into this capability. They used the Decibel reading as their benchmark, but this is an exponential curve and leading ultimately to lack of precision. Coltraco Ultrasonics designed from the beginning a unit which was designed wholly as a portable Portascanner™ Watertight Integrity Test Indicator for ships holds and hatch-covers.

The receiving unit consists of a hand-held receiver and a mini-Generator which is placed inside the hold. Both are lightweight and truly portable. The headphones are connected to the receiving unit, the generator is placed inside the hold, an Overhead Hatch Value is established (in seconds), the hatch-cover is closed and testing proceeds. To make it easier for operators and Marine Surveyors a Portascanner™ Extension Rod enables the operator to use the equipment without bending down. As soon as the LCD digital display indicates a leak-site the audible sound signals concurrently in the operators head-phones. The larger the digital value and the larger the audible sound = the larger the leak-site. Absolute precision is delivered.

In offshore oil and gas a leading exploration company drew attention to failure of its watertight compartment doors in the pontoon leg of one of its offshore installations in 2012. This had led to severe water ingress and consequential damage to the auxiliary machinery installed there. The platform was close to capsize. We began work to research how we could apply Portascanner™ to this "small structure" work and identified how we could use the unit to identify the water-tightness of W/T compartment doors. Today we have units aboard hundreds of offshore oil and gas platforms with most of the world's leading oil and gas companies.

In Naval and Commercial vessels one of the key concerns is how to monitor the watertight integrity of Cable Transit Areas where bundles of cables pass through apertures between bulkheads. Typically these are sealed with high quality sealants designed to facilitate water-tightness. From the "small structures" work we had achieved in W/T Compartment Doors it was relatively straightforward to extend this application to Multiple Cable Transit Areas.

Coltraco Today

Today we area family company with 3 generations and manufacture 14 products and systems but our 3 core products for the marine & offshore markets are :

• Portalevel™ MAX Marine SOLAS-compliant & UL approved shipboard portable liquid level indicator for marine CO2, FM-200™ & NOVEC™ 1230 fire suppression systems – to replace weighing and use of radioactive level meters for contents monitoring
• Portascanner™ portable watertight integrity test indicators for hatch-cover, watertight compartment door & cable transit area – to replace chalk & high pressure hose testing
• Portagauge™ 3 – the "low cost marine superintendents ultrasonic thickness gauge"

These are all ultrasonic technology and are on-board nearly 17% of the world's fleet of vessels, and on-board 90% of the platforms in the UK North Sea but also in service with ship-building & ship-repair yards, marine servicing companies, marine surveyors and P&I Clubs, though by far the largest user group are shipping & ship-management companies, Offshore oil & gas installations and Navies. Coltraco Limited has been manufacturing ultrasonic equipment for over 20 years and we are one of the world's leading designer and manufacturer for this specialist equipment. We produced the first Portalevel™ unit in 1987 and are now manufacturing our 8th Generation design. We now have equipment operating in 105 countries worldwide across multiple market sectors. Shipping, Shipbuilding, Ship-repair & Offshore oil and gas are core markets for us.

Compliant with IMO
SOLAS Regulations

The 3rd most important reason why ships are lost is through fire. Fire Safety though is the No 1 reason in Port State Control findings and accounts for every 5th ships detention (Source: GL best Ship Management Practise Study 2013). In the UAE it is estimated by marine servicing companies that typical findings are that 10-30% of the ships CO2 cylinders have accidentally discharged or leaked. At those ratios the fires that they were designed to suppress will not be able to be suppressed. The question then is when will the majority of the world's shipping and ship management companies install these 2 equipment types? SOLAS demands in its Fire Safety Systems Chapter 5 that Means shall be provided for the crew to safely check the quantity of the fire extinguishing medium in the containers.

Extract from IMO & FSS Codes:
International Maritime Organisation (IMO) Safety of Life at Sea (SOLAS) International Fire Safety Systems (FSS) Code Chapter 5 - Fixed gas fire extinguishing systems 1. Application This chapter details the specifications for fixed gas fire-extinguishing systems as required by chapter II-2 of the Convention. 2. Engineering Specifications 2.1 General 2.1.1 Fire-Extinguishing Medium 2. 1. 1. 3 Means shall be provided for the crew to safely check the quantity of the fire extinguishing medium in the containers.

Safeship Concept

For us at Coltraco Ultrasonics the issue is not however really whether we are SOLAS-compliant or Classification Society-approved.

These are important issues which we fully recognize (and I should stress that Senior Surveyors at Classification Societies have always kindly supported us) , but the key reason why ships should have our equipment on-board is that Safety should be paramount and drive their installation, regardless of whether the regulations state they have to be installed. Safety for Safety's sake. Safety at Sea for the Officers & Crew, their Ship and its Cargo should be the responsible driver to their acquisition.

We have developed relatively inexpensive equipment types for them to have on-board and to check both :

• the contents of their fire suppression system so that they can crew their vessel knowing that their ships fire suppression system contains the correct contents and
• the water-tightness of the ships hatch-covers, hatches, W/T compartment doors and its Multiple Cable Transit Areas can be tested safely and easily

Coltraco Service Commitments

Coltraco Ultrasonics offer customers :

• Trade-In credits of your old model type to apply against the purchase of latest model types;
• Through-life maintenance support;
• Free training by phone or training video;
• Portacare™ TMSS annual contract maintenance options,
• Certified OEM calibration & ODA Service Stations in the USA, UK, India & France.

Above all ethical business practices, scientific & mathematical application and genuine family values. Building on our ISO 9001 we have also completed our ISO 14001 certification.
These equipment types are supported by Coltraco Ultrasonics on-line videos – which are free-of-charge – and which are designed for foreign Crew whose first language is nor English. Available through our website www.coltraco.co.uk or on our YouTube channel www.youtube.com/user/ColtracoVideos

We are developing a global network of Coltraco ODA (Organisations with Delegated Authority) Service Stations so that owners can direct re-calibration to these centers rather than returning them to us in the UK. So far we have stations in the USA, UK, France, India and are developing new stations in the UAE and Singapore/Hong Kong.

Tomorrow – Our Commitment to Science & Vision

• We are committed to resourcing research & development and to science.
• We are proud of our British Scientists who have kindly lent their services to Coltraco Ultrasonics Limited.
• We have a vison to extend our technology base from ultrasonics and on into technologies based on light, magnetism and radar.
• One of our aspirations is to enable the 24/7 monitoring of ships hatch-covers worldwide.
The products and services herein described in this press release are not endorsed by The Maritime Executive.