The Sea Research Foundation opened its "Titanic – 12,450 Feet Below" in the Ocean Exploration Center of the Mystic Aquarium in Connecticut in April of 2012. This year, the Foundation expanded the exhibit to include a gallery about the U.S. Coast Guard International Ice Patrol as a positive outcome of the tragedy. The addition officially opened in April of 2013, the month that also marked the Ice Patrol's centennial.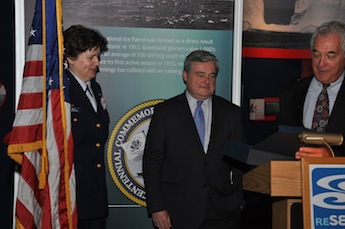 In April of 1912, the RMS Titanic, on her maiden voyage, struck an iceberg near the Tail of the Grand Banks of Newfoundland, and sank with the loss of over 1500 lives. The tragedy galvanized the international community to act to improve maritime safety. By May of 1912, the U.S. Navy had two ships on the Grand Banks monitoring iceberg danger and warning transatlantic mariners. In 1913, the Revenue Cutter Service, the forerunner of the U.S. Coast Guard, provided two ships to conduct the same mission.
In 1914, the International Ice Patrol was formally established by the International Convention on the Safety of Life at Sea, one of the most successful and enduring international agreements that remains in effect today. The International Ice Patrol continues to conduct the mission in close partnership with the Canadian Ice Service. Together, they issue joint iceberg warnings as the North American Ice Service. Since its inception, not a single ship heeding Ice Patrol warnings has struck an iceberg.
During the official opening ceremony of the Ice Patrol gallery on May 23rd, Dr. Stephen Coan, President and Chief Executive of the Sea Research Foundation, presented a plaque commemorating the Ice Patrol's century of service. At a previous event in April, the Honorable Joseph Courtney also recognized the unit, presenting a copy of a floor statement read in the House of Representatives on April 26th. At the same event, Rear Admiral Daniel Abel, Commander, First Coast Guard District, presented a Meritorious Unit Commendation award pennant recognizing the unit's accomplishments over the previous two years.
U.S. Coast Guard artifacts loaned to the exhibit include an HC-130 aircraft door that demonstrates how an ice observer performs duties on the aircraft and an oceanographic drifter buoy that demonstrates the large scale of icebergs and ocean currents that drift them. The exhibit also includes an airborne expendable bathythermograph that provides a water temperature profile from aircraft and a historical instrument to collect water samples at depth. Approximately 750,000 people visit the Mystic Aquarium each year.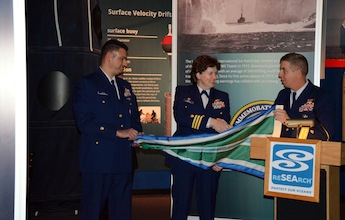 The products and services herein described in this press release are not endorsed by The Maritime Executive.