Sea Fare: A Chef's Journey Across The Ocean
by Victoria Allman
​Paperback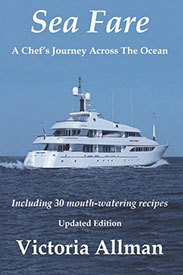 Sea Fare is the delicious memoir, featuring exotic recipes from a young chef who joins a yacht and travels the world, finding love along the way.
Imagine traveling aboard a yacht; buying fish from an olive-skinned Italian wrinkle of a man with rough hands and forearms that bulge like Popeye's.
Picture swimming with dolphins that circle you like a carousel in the pure azure waters of the Caribbean.
Travel up a muddy river past wide-eyed, crusty-nosed children with bloated bellies into the center of Papua New Guinea to barter for bananas among women with breasts sagging to their bellies and bones poked through their lips.
Visualize snorkeling through Bombay-colored shallows of the South Pacific to hunt one of the world's deadliest creatures for dinner, led by a Tahitian man with dark tribal tattoos of tikis, turtles and rays wrapped around his bicep and stretching down his muscular calves.
Imagine pitching back and forth uncomfortably in monstrous swells and raging seas during a tropical storm.
Readers who enjoy travel writing and exotic cuisine will love every page of Sea Fare. This is the story of Victoria Allman, a wandering chef who followed her love of food around the globe. Culinary trained at the Statford Chef's School in Canada and the Culinary Institute of America, Victoria shares her nine-year cooking odyssey as a yacht chef. Imagine: --buying fish on board the yacht from an olive-skinned Italian wrinkle of a man with rough hands and bulging forearms. --exhausting yourself landing a fish in Hemingway's Key West. --swimming with dolphins in the pure, azure waters of the Caribbean, --traveling up a muddy river, past wide-eyed children into the center of Papua New Guinea, or --snorkeling the Bombay colored shallows of the South Pacific. Victoria's pursuit of food knowledge led her to kitchens in Hong Kong, England, Vietnam, Tahiti, South Africa, the Caribbean, and Nepal. From misadventure to romance, her travel stories provide a perspective and depth of understanding that can only come from someone who's actually been there. Each new destination adds recipes and stories for Sea Fare: A Chef's Journey Across the Ocean
Buy Now - Sea Fare: A Chef's Journey Across The Ocean