First American Offshore Wind Farm Fully Funded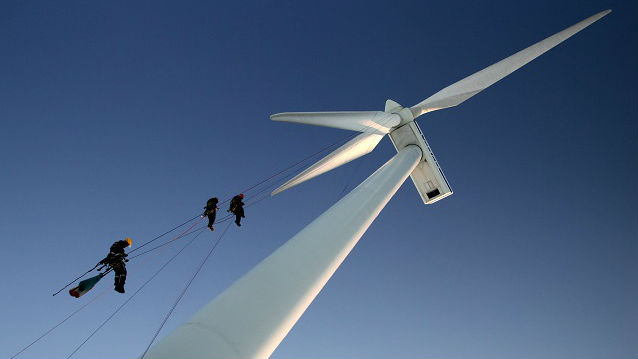 Deepwater Wind, a U.S. leader in the development of renewable, offshore wind-power projects, announced on Monday that its Block Island wind farm project has received funding in the amount of $290 million to build its five-turbine wind farm. The $290 million, which came from Mandated Lead Arrangers Societe Generale of Paris, France and KeyBank National Association of Cleveland, Ohio, will fully finance Deepwater Wind's Block Island Wind Farm.
Offshore wind farms generate electricity from wind, and due to the stronger wind speeds found offshore versus those on land can contribute a much higher supply of electricity. Europe, the global leader in offshore wind, currently has over 2,450 wind farms that supply electricity to over five million households.
The company believes that its farm should be up and running in 2016, and according to Deepwater, parts of the turbines are already being built in Europe and the U.S. under fabrication by Alstrom and Gulf Island Fabrication. The company said that the turbine foundations will be installed off the coast of Block Island as early as this summer.
Deepwater's Block Island project, which will be a 30-megawatt facility, is the first of its kind to be fully funded and approved by state and federal regulators. Its predecessor, the Cape Wind project, has continually come up against a number of setbacks, and the 130-turbine project has yet to come off the ground. Cape Wind has been postponed primarily due to lack of funding, as well as public and political opposition centered on electricity costs and coastal views.
Once the Block Island Wind Farm is complete, it will produce an estimated 125,000 megawatt-hours of energy each year, a number that could power over 17,000 homes. The wind farm, which will be located three miles southeast of Block Island, will initially provide energy to Block Island homes and excess power will be distributed through underwater transmission lines to the mainland.
Deepwater's Block Island project will hopefully pave the way for the company's much larger project, Deepwater ONE, which would be the nation's first 1,000 megawatt-scale offshore regional energy center. Deepwater ONE, located 30 miles east of Montauk, New York on the Outer Continental Shelf, will provide enough electricity to power around 350,000 homes and remove approximately 1.7 million tons of carbon dioxide emissions annually. Deepwater ONE's electricity will be sold to Long Island and New England states.