In January 2015 enclosed space entry drills and training every two months will become mandatory under amendments to SOLAS.

Too many lives have already been lost because proper safety procedures were either not in place or not enforced, warns Captain Paul Drouin, editor of The Nautical Institute's MARS reports.

Not taking seriously the danger of enclosed space entry can be fatal. This MARS report shows how quickly ignoring common-sense procedures and checks can kill:
Another life lost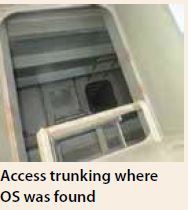 The vessel had berthed and commenced discharging, with a shore crane, a load of 72,000 metric tons of steaming coal. When requested by shore personnel to draw samples of the cargo, the duty officer instructed the crew member to do so by entering hold number six through the trunk that housed the Australian Ladder.
After about ten minutes the officer noticed that the crew member had not come up from the hold. When he went to the trunk opening he found the crew member had collapsed and was lying on the Australian Ladder just below the first landing about three metres below the main deck level. Immediately he mustered assistance; the crew member was brought on the main deck and attended to. The port ambulance brought the victim to the nearby hospital but he was declared dead on arrival.
Unfortunately, the atmosphere inside the trunking was only checked some 24 hours after the accident; oxygen and carbon monoxide levels were found to be normal.
Investigation findings:
* Enclosed space entry checks were not carried out.
* The entry was made without the knowledge of the master and chief officer.
* The possibility of the carbon monoxide content being higher and/or oxygen content being lower than levels safe for human survival cannot be ruled out.
* The entry was not monitored by the duty officer.
* The crew member was on his first ship with only about 12 months sea time.
* The trunking does not have ventilation ports along the entire height except the entry from the main deck by the booby hatch.
Drouin's note: Even though the victim was relatively new to the trade, it is reasonable to assume that even an experienced hand would have suffered the same fate in this instance due to the lack of procedural rigor. Masters and chief officers must be proactive in ensuring that these procedures are in place and are followed. As many readers may already know, SOLAS has been amended; enclosed space entry drills and training once every two months will become mandatory as of January 2015. Hopefully these additional measures will save lives.