On Veteran's Day this year, T&T Subsea divers worked to help save the Battleship Texas, the over 100-year-old U.S. naval vessel and historic landmark ship of Texas launched in 1912 that fought in both World Wars.
T&T Subsea, the Teichman Group's dedicated commercial diving company, was founded by U.S. Army veteran and salvage industry legend Rudy Teichman. Today, the T&T Subsea team consists of U.S. military veterans and divers from the U.S. Marines, U.S. Navy and U.S. Coast Guard with over 60-years combined military service.
T&T Subsea was hand-selected by the State of Texas to salvage, repair and maintain the historic battleship and, on Veteran's Day, T&T Subsea divers quickly and effectively patched the ship's fragile hull to allow dewatering operations and then completed permanent repairs. Based on T&T Subsea's exceptional performance, the Texas Parks and Wildlife Commission awarded T&T a commendation that stated the company "provided a rapid and skilled response involving specialized equipment and staff that were invaluable in preserving the historic fabric of the ship." The Manager of the Battleship Texas added "As always, T&T provided exceptional service. The team was safe, responsive and considerate of the complexities of working on Battleship Texas."
Vice President, Jim Elliott, a retired senior Coast Guard officer and Naval War College graduate noted "It is an incredible privilege to help restore the Battleship Texas, a ship that has carried sailors into battle during multiple conflicts. It was particularly poignant for our team to dive on the ship on Veteran's Day and to remember the selfless sacrifice of the many sailors that served onboard throughout the ship's life."
T&T Subsea consistently provides safe, high quality marine salvage support, ship husbandry and under-hull cleaning, classification society approved hull and propeller repairs, vessel and facility inspections, marine construction, contaminated water diving, and myriad other underwater services worldwide. It is T&T's honor to be a military-friendly employer.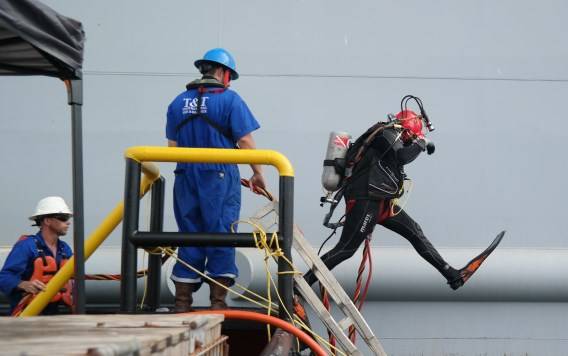 The products and services herein described in this press release are not endorsed by The Maritime Executive.