Tides in some locations around the Bay of Fundy, Canada, reach a height of close to 50 feet (15 meters). Here, the world's most powerful hydrokinetic or free-flow hydraulic turbine of up to 2MW output was recently installed, but in addition to that, the north side of the bay near Saint John is the location of a tidal hydroelectric power dam across the mouth of a river that can also generate electric power from the movement of the changing tides.

Different Tidal Heights
A similar tidal hydroelectric installation operates near the town of Rance in France, between ocean and river. Some 20 years ago, an engineer from Central America published an article about the potential to generate oceanic tidal hydroelectric power across a 65 kilometer (40 miles) channel built between the Gulf of Panama that experiences tides almost as high as Bay of Fundy and the Caribbean Sea. For several hours every day, the tide along the coast of Gulf of Panama was over 10 meters (33 feet) higher than the tide along Panama's east coast. It is a phenomenon that also occurs elsewhere, including Canada.
Every day in Eastern Canada, the height of the tide in Bay of Fundy will exceed the height of the tide in Northumberland Strait located just over 25 kilometers (15 miles) from the easternmost point of Bay of Fundy. Given that the distance is about half that of the Channel tunnel between France and the U.K., there may be scope to excavate tunnels deep underground between Bay of Fundy and Northumberland Strait, with corrosion resistant hydraulic turbines installed at the eastern end of the tunnels. Future advances in automated drilling and automated excavation technology could reduce the future construction costs.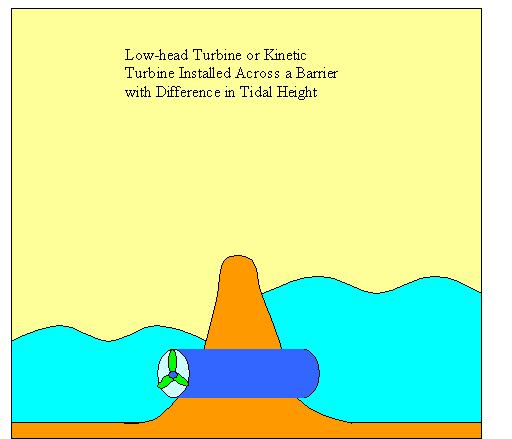 Ready-Made Scale-Model Test Site
Nova Scotia is home to a possible scale model test and research site for a future Bay of Fundy trans-isthmus oceanic hydroelectric power dam as well as a future Gulf of Panama trans-isthmus hydroelectric installation. During the 1950s, Canada built a tidal dam and tidal navigation lock in the Strait of Canso that lies between St George's Bay to the north and Chedabucto Bay to the south. Tides rise and fall at different rates in the two bays and caused a powerful tidal current to flow through the interconnecting strait and disrupting domestic ship traffic sailing between Montreal and Halifax.
The width across the Strait of Canso dam is less than 60 meters (197 feet), reducing the installation cost of one or more sewer pipes under the dam. In recent years, there have been advances in the development of low-head and ultra-low head hydraulic turbines capable of generating electric power from a water height difference (head) of one meter (three feet), with one Austrian designed and built turbine capable of operating with a head of 0.75 meters.
Nova Scotia offers an attractive scale-model site to undertake research and development in oceanic tidal hydroelectric power dams while perhaps generating some 500kW of electricity for local use.
Inland River Precedent
There are five locations in Central and Eastern Canada where navigation locks are located beside a dam. The Carillon hydroelectric dam on the Ottawa River is located beside navigation locks. There are two locations along the Saint Lawrence River between Montreal and Lake Ontario that involve major hydroelectric power dams and one location that involves a low-head control dam where the layout is a virtual duplicate of the layout at Strait of Canso. The locks at Welland are next to Niagara Falls. Maritime traffic routinely transits through the navigation locks while the hydroelectric power dams operate at peak output.
Precedent from the Ottawa River and the Saint Lawrence River indicates that installing sewer pipes and ultra-low-head hydraulic turbines under the dam at Strait of Canso should have little effect on maritime traffic.
Turbine researchers would need to compare the merit of installing both ultra-low-head turbines against as well as hydrokinetic turbines at the end of sewer pipes at Strait of Canso. In cases where there may be insufficient head across the dam, hydrokinetic turbines will remain operational and deliver power. As the head across the tidal dam increases, ultra-low-head turbines may blend in as kinetic turbines are withdrawn.
Larger Site
Not only does Eastern Canada offer an attractive, ready-made scale-model site to develop future oceanic hydroelectric power generation technology, the region also offers a larger-scale site. At the Province of Newfoundland, the tide rises and falls at different rates in two bays separated by an isthmus of four kilometers (2.5 miles), Trinity Bay to the north and Placentia Bay to the south. Considerable blasting through almost impervious rock could produce a tunnel under the isthmus to connect the two bays, with corrosion resistant low-head hydroelectric turbines installed at one or both ends of the tunnel or tunnels.
The combination of hydrokinetic turbines and low-head turbines may be suitable at this site to maximize tidal power generation with hydrokinetic turbines only operating when the head across the dam drops to below one meter (three feet). A trans-isthmus tidal hydroelectric installation at Newfoundland could generate a few megawatts of electric power while also serving as a template for larger tidal hydroelectric installations. While Bay of Fundy and Gulf of Panama are obvious future locations for such power generation installation, there are several other potential sites located elsewhere around the world.
Nova Scotia is where the development may begin.
Conclusions
While the installation of a 2MW hydrokinetic turbine in the Bay of Fundy at Nova Scotia shows future promise, Nova Scotia also offers a suitable site to develop and small, low-head oceanic hydroelectric power dam that could generate power from the differences in height between two nearby bays. Suitable ultra-low head hydraulic turbines are commercially available as are suitable hydrokinetic turbines. Federal and Provincial government officials will need to decide as to whether to allow or encourage development of a low-head tidal hydroelectric power dam at Strait of Canso, for the purpose of larger future development elsewhere.
The opinions expressed herein are the author's and not necessarily those of The Maritime Executive.