Architect plans have been released for Blue Abyss, a subsea research and testing center in Essex in the U.K.
The facility will be built on six acres of land at Essex University's Knowledge Gateway Innovation Park. It will contain the world's biggest training pool which, at 50-meters deep with a 41,000 cubic meter volume and hyperbaric and hypobaric chambers, will be capable of simulating challenging offshore environments.
The pool features a poolside crane and opening roof that allows up to 100 tons of equipment to be lifted and submerged into the pool.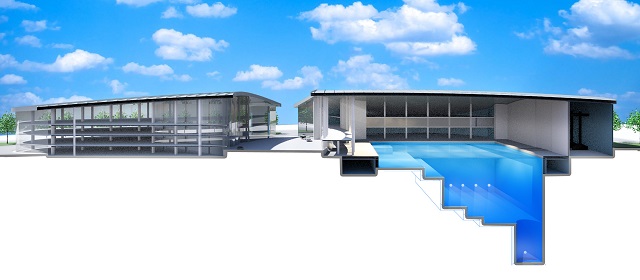 Blue Abyss will be able to replicate the challenges of tidal, wave and current conditions in the Southern North Sea in a safe and controlled environment, offering multiple opportunities for simulation, cable connection training, submersibles training and testing for offshore wind installation, oil and gas work scopes, decommissioning solutions, deep sea diving and drone training.
The Kuehnegger Human Performance Centre for human life science sector clients will also be housed in the building. The pool will contain a micro-gravity simulation suspension system to replicate the effects of weightlessness and low gravity in environments like those found on the moon and Mars.
Blue Abyss will also offer a conference amphitheater, training rooms and a 120 bed hotel.
The design of the facility resembles a horseshoe crab and a speeding comet and is expected to be open to the public when complete at the end of 2018.