Xiao Li, the wife of missing Chinese sailor Guo Chuan has launched a crowd-funding campaign to continue search efforts after the U.S. Coast Guard abandoned its search and rescue attempt.
Launched on gongyi.qq.com, a crowd-funding site operated by Tencent, she aims to raise two million yuan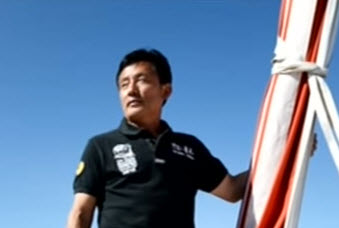 ($295,000). By noon on Monday, she had received almost 1.3 million yuan from 12,000 donors, reports China Daily.
"The sea temperature is 25 degrees Celsius above, and we will not give up till the last hope," Guo's wife said in a letter shared on social media.
Guo, 51, is thought to have fallen off his boat on Wednesday. At the time he lost contact, Guo was attempting a solo sailboat crossing from San Francisco to Shanghai with the intention of beating the current speed record.
A travel company in Hawaii later offered to provide five to 10 helicopters to search for the missing sailor, but they need larger ships with helipads.
Guo holds two sailing world records - a solo nonstop circumnavigation world record set in 2013 and an Arctic Ocean Northeast Passage nonstop sailing world record set last year.
He told a Xinhua reporter in an earlier interview that the greatest fear for a sailor was to fall in the water.
The U.S. Coast Guard found Guo's 97-foot trimaran, the Qingdao China, 1,000km northwest of the Hawaiian island of Oahu on Thursday, but he was missing. A life jacket was found on the vessel.
Coast Guard HC-130 aircrews conducted search patterns near Guo's sailboat on Tuesday and Wednesday. The Navy amphibious assault ship USS Makin Island was in the vicinity, and she deployed an MH-60 helicopter to assist.
On Sunday, more than 1,000 ships affiliated with China's COSCO Shipping Corporation were asked to keep watch for the missing sailor.