The Coast Guard is ramping up its efforts to deter tour boat operators from bringing passengers too close to the spectacular lava flows at Kilauea Volcano in Hawaii. Four operators are licensed to approach the zone, but in recent months a rising number of unapproved charter boats have been conducting illegal tours of the area.
"We are encouraging visitors and tourists in the area to make sure that their operators are properly licensed because these operators are well equipped in dealing with emergencies and operating procedures and they have an abundance of situational awareness," said Petty Officer Melissa McKenzie in an interview with Hawaii News Now.
To ensure safety, the Coast Guard has issued citations to unlicensed operators and imposed a new 1000-foot safety zone around the Kamokuna ocean entry, where "the unstable sea cliff, volcanic shrapnel, toxic gases and potential bench collapses pose [a risk] to vessel traffic and the public." The Coast Guard warns that delta collapse occurs with no warning and is unpredictable, meaning that operators must keep their distance. Violators are potentially subject to a fine of up to $88,000.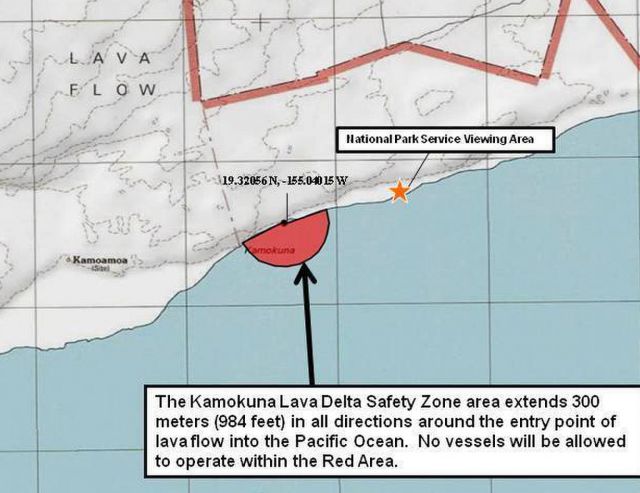 According to the Hawaii Volcano Observatory (HVO), dangerously large fragments can be thrown far out to sea when the front edge of the lava delta collapses. Delta formation on a sloping seabed is accompanied by frequent collapse of the leading edge, and the process is part of the attraction for tourists – a dramatic explosion of steam and rock when molten lava hits the water. A U.S. Geological Survey review of three decades of HVO data on delta collapse showed that the minimum safe distance from the point of ocean entry is about 1,000 feet.
Tour operators immediately objected to the new restrictions, claiming that the safety zone is unnecessary, arbitrary and bad for business.
"I've been doing this for 30 years and I've never seen any incident at the ocean entry on the boat," tour operator Steve Tarpin told Hawaii Tribune-Herald. "Three hundred yards is too far to experience the lava in the fashion we would like to show it." In a separate interview, he added that the usual distance is in the range of 100 feet.
Ikaika Marzo of licensed operator Kalapana Cultural Tours said that the rule was already affecting the bottom line. "Majority 90 percent of our business in the next month has canceled because of the distance," he said.
View from an early morning tour before the imposition of the safety zone, March 24, 2017 (Kalapana Cultural Tours)