Heavy winds forced a Russian ship to run aground off the coast of Istanbul, Turkey, on Friday, Turkey's Dogan news agency reported.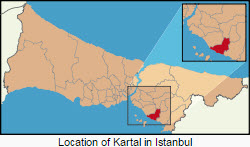 It was not immediately clear if anyone was injured, although footage from Dogan showed men sitting in a lifeboat on the deck of the ship, waiting to be brought down while rescue workers gathered nearby at the coast.
The ship ran aground just off Istanbul's Kartal district, on the Asian side of the city on the coast of the Sea of Marmara. Istanbul's European and Asian sides are separated by the Bosphorus Strait, an important international shipping lane for oil and grain.
Three Turkish Coast Guard personnel were killed in August after their vessel collided with a bulk carrier in the Bosphorus Strait. A year earlier, the Paros Wind collided with the CS Jaden about eight miles from the entrance to the Bosphorus Strait. In July 2015, the Akel sank following a collision with the Sengul-K. One crew member died, and the remaining 11 were rescued by coast guard officials. Earlier that year, the 6,476-ton cargo vessel Majed and Randy crashed into a villa on the Bosphorus Strait.