Tropical Storm Harvey continues to batter the Houston and Corpus Christi area, with significant effects on the oil and gas industry. Roughly one million barrels per day of refinery capacity is offline in Houston and Galveston alone, with implications for domestic and international product markets. In addition, the busy Houston Ship Channel is closed and 22 percent of the Gulf's offshore oil production is shut in.
On Sunday, Royal Dutch Shell announced that it is closing its 340,000 barrel per day Deer Park refinery, adding to a long list of shutdowns and slowdowns. Others include: Marathon's Texas City and Galveston Bay refineries, with a combined capacity of 570,000 bpd; Petrobras' Pasadena refinery, with a capacity of 115,000 bpd; LyondellBasell's Houston refinery, with a capacity of 265,000 bpd; and all six refineries in Corpus Christi, with a combined capacity of over one million bpd. Depending on the extent of any damage, some facilities could take weeks to return to full production, analysts cautioned.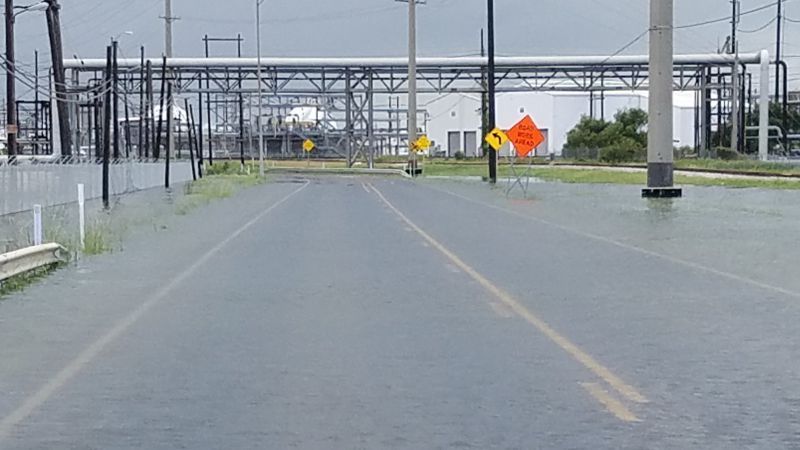 Flooding outside Valero's Beaumont refinery (TxDOT)
Exxon has cut back production at its Beaumont, Texas refinery and shut down its sprawling 560,000 bpd Baytown installation, the second-largest in the U.S. (video below). Exxon told Texas' environmental regulators that a facility at Baytown was damaged by heavy rain, and that it expects that air pollutant emissions to exceed legal limits for a period. It said that it will take action to minimize any emissions and that it expects to have the situation under control by Friday. The firm did not give details about the extent of the damage.
Drone footage shows a chemical plant flooded in Baytown, Texas, 35 miles east of Houston. https://t.co/dm7b5pLzkJ #Harvey pic.twitter.com/EPNMqVaLpD

— USA TODAY (@USATODAY) August 28, 2017
Baytown has a controversial history related to hydrocarbon emissions: Exxon recently lost a lawsuit brought by the Sierra Club that alleged that the facility had violated the Clean Air Act over 16,000 times from 2005-2013. Exxon disputes the court's findings.
All told, Goldman Sachs estimates that about three million bpd of refining capacity in Texas has been affected by the storm. The supply reductions will be cushioned by an above-average petroleum product stockpile, but the market effects are already visible: gasoline futures rose seven percent Sunday night and another four percent on Monday. Analysts forecast an average rise in gas prices of about $0.20.
Houston Ship Channel remains shut
The refineries have also been affected by the closure of the critical Houston Ship Channel, a busy waterway for the shipment of crude, petrochemicals and petroleum product. Pilots ceased boarding inbound vessels on Friday before Harvey made landfall, and the channel remains closed.
Shipping agency GAC reports that COTP Sector Houston-Galveston expects the port to remain closed until Tuesday at the earliest. The USACE has begun surveying waterways to allow for reopening channels to traffic as soon as possible.
The Port of Galveston also remains closed, and four cruise ships that were scheduled to return to the port are awaiting improved conditions or making other arrangements. Royal Caribbean said in a statement that it is diverting the Liberty of the Seas to Miami until conditions at Galveston are back to normal. Three Carnival Cruise Lines vessels will return to Galveston once conditions permit.
The Port of Corpus Christi is also shut down, as it has a 450-foot drillship grounded in its access channel near Port Aransas. The ship – the 1979-built Paragon DPDS1, owned by Paragon Offshore – was in layup at a private dock on the waterway, but the hurricane-force winds tore it free and drove it aground. Freeport, Texas has an even bigger problem: parts of its ship channel appear to have lost as much as seven feet of depth in the storm.
Harvey is now moving off the coast near Matagorda Bay, but the storm is not over: the system is expected to soak up more moisture over the Gulf and then return up the Texas coastline through Wednesday, dumping up to an additional 25 inches of rain in the Houston/Galveston area. Nine people have already lost their lives in the flooding and economic damages could be in the tens of billions of dollars; the full toll remains to be seen.
A @USCGHeartland aircrew rescues 5 people from floodwaters in a SE #Houston neighborhood #Harvey #HurricaneHarvey #USCG pic.twitter.com/p0EfTwT37B

— U.S. Coast Guard (@USCG) August 28, 2017