Norwegian Joy has set sail for sea trials before heading to her home port of Shanghai.
The 3,900-passenger, 168,000 gross ton vessel departed the Meyer Werft shipyard in Papenburg, Germany, on March 26. The voyage involved a 14-hour conveyance along the Ems River. Upon arrival in the Dutch port of Eemshaven, Norwegian Joy will take on additional provisions and further crew members, before heading toward the North Sea for sea trials later this month.
Following her delivery on April 27, Norwegian Joy sets sail for China, where she will be showcased through an inaugural port tour featuring one-day events at the ports of Qingdao, Shenzhen and Hong Kong, and VIP partner cruises from Shanghai and Tianjin.
Measuring 1,094 feet long and 136 feet wide, the ship is the second in Norwegian Cruise Line's Breakaway-Plus class and the first that was purpose-built for China.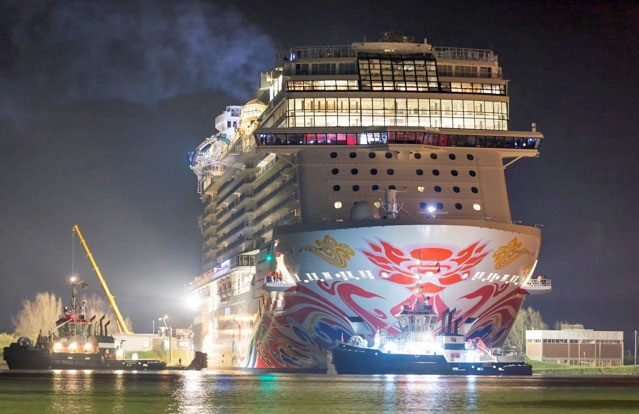 Artwork for the hull of the newbuild was commissioned from Chinese artist Tan Ping, known for his work on the 2008 Beijing Olympic Games Image and Landscape Design Project. His work is also in the collections of the National Art Museum of China, the Ludwig Museum in Germany, the Shanghai Art Museum and the Portland Art Museum.
Ping's theme for Norwegian Joy's bow is the phoenix, a mythical bird said to "reign supreme over all birds of the world." It is a common motif in Chinese art and can be found throughout the centuries in paintings, silk brocades and architectural features.
"The phoenix symbolizes beauty and good luck in Chinese culture, and Norwegian Joy will bridge across the West and the East and bring Chinese people's best wish to the world and everyone in her path," said Ping. "This design is by far my largest artwork, and traveling worldwide on Norwegian Joy, I also expect that it will reach a far greater number of viewers than any of my previous works."