Intermodal freight volumes returned to growth in the fourth quarter in 2016, posting a 1.0 percent year-over-year increase that tempered volume declines earlier in the year, according to the Intermodal Association of North America's (IANA) Intermodal Market Trends and Statistics report.
The fourth quarter improvement, which totaled 4.35 million shipments for the three months, was achieved despite an ongoing freight recession that permeated the transportation industry and resulted in lower intermodal volumes during the second and third quarters. Shipment declines during those quarters led to a decline of 2.1 percent in total intermodal volumes for the year compared with 2015. The total of 17.1 million shipments was the first full-year decline since 2008.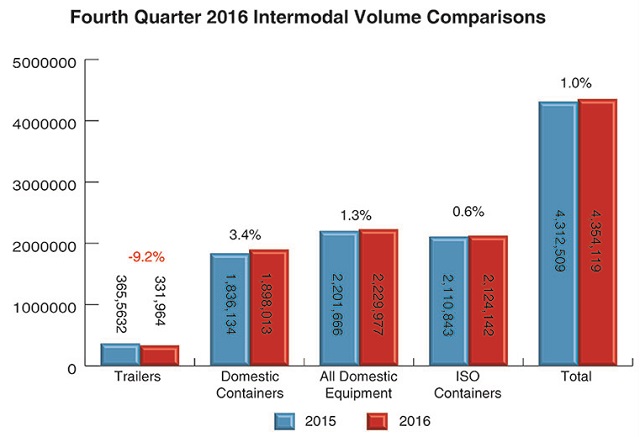 "While full-year totals didn't meet our original expectations, we turned the corner in November and December," said Joni Casey, president and CEO of IANA. "The four percent increase in domestic container volume during 2016 is a consistent and positive indicator of long term growth for the industry."
Domestic container gains were 3.4 percent in the fourth quarter and international shipments returned to growth for the period, increasing 0.6 percent. Declines continued in the trailer segment, which fell 9.2 percent.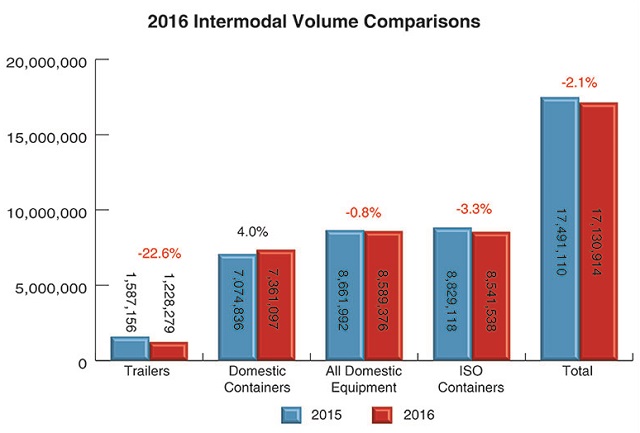 The seven highest-density trade corridors, accounting for 63.3 percent of total intermodal volume, collectively were up 1.8 percent in the quarter, above the industry average of 1.0 percent. The Midwest-Northwest and Northeast-Midwest lanes saw the largest fourth quarter increases at 4.3 percent and 4.2 percent, respectively. Midwest-Southwest volumes, which were the highest, grew 1.4 percent. The South Central-Southwest lane, the only major lane to post a decline, fell 4.4 percent on container losses.
Intermodal marketing companies again demonstrated clear gains in the highway market sector. Thanks to excess trucking capacity and low fuel prices, highway volumes were up 37.3 percent from same quarter the previous year. Intermodal loads fell 11.2 percent. The net result for reporting intermodal marketing companies was a total volume increase of 10.0 percent.
At $40 Billion, the North American intermodal market is the largest in the world. It relies on a fleet of more than 700,000 chassis to move the domestic and international containers moving on its network.
IANA Introduces Resource Center
IANA has created a resource center, available on its website, which offers educational tools, industry information, research and other content. The "What Is Intermodal" page overviews the industry's scope and benefits. Additional sections include intermodal network and terminal information, data and statistics, a glossary of industry terms, studies and reading, as well as links to organizations that provide related services.
The Center also features an interactive infographic and downloadable tools such as a 32-page intermodal fact book, a fact sheet and maps.
The Center is available here.