DNV GL has published a report assessing the potential for GHG emissions reduction from shipping towards 2050, based on a new computational model. The model is used to evaluate various scenarios for individual ship segments and the industry as a whole as well as assessing the effectiveness of various solutions for reducing GHGs.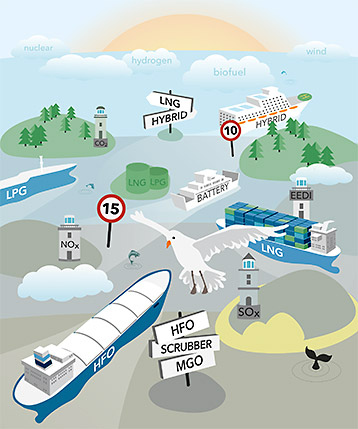 Shipping is facing the introduction of the global 0.5 percent sulfur cap in 2020 which will affect up to 70,000 ships. As a result of the increased international attention to air pollution, a growing number of ship owners are beginning to weigh their options to ensure compliance. They face a choice of either switching from heavy fuel oil (HFO) to marine gas oil (MGO) or low sulfur fuel oil with 0.5 percent sulfur or retrofitting vessels to use alternative fuels such as LNG or installing scrubber systems which allow them to continue operating on regular HFO.
In addition, in 2016 the North American NOx ECA came into effect and the North European NOx ECA will be enforced for vessels built from 2021. Reducing NOx and SOx emissions is technically feasible, but it often comes at the expense of increased fuel consumption and hence CO2 emissions.
These regulatory changes are taking place at a time when the industry is trying to recover from a severe market downturn, with limited access to financing and consolidation taking place in many shipping segments. This makes investments in new technology more challenging and short term solutions may be selected, particularly for old vessels.
At the same time, there is high uncertainty regarding availability of various fuel types, as well as uncertainty related to the maturity of proposed technological solutions, making investment decisions even harder for shipowners.
"Despite the challenges facing our industry, we believe it is technically possible for shipping to achieve substantial GHG reductions, provided a viable strategy is developed and adopted from within the industry itself," says Christos Chryssakis, Group Leader Energy Efficiency & Fuels at DNV GL. "But for such a strategy to be both successful and minimally disruptive, it should recognize the differences between the various shipping segments and the need to develop appropriate solutions for different ship types, sizes and types of operation."
The objective of the new report Low Carbon Shipping towards 2050 is to assess the potential for realistic GHG reductions from shipping heading to 2050, considering a variety of possible trade growth scenarios in the various ship segments. The level of reduction will depend on the availability of the technological solutions in each segment, their reduction potential and rate of uptake. In turn, uptake will depend on the cost and expected payback of each technology, combined with the investment horizon of ship owners.
These factors are included in the model developed by DNV GL, which uses AIS data to create a fuel consumption and emissions baseline. The global fleet is divided into 47 ship segments based on vessel type and size, with fuel consumption estimated for every vessel individually. For each vessel in the fleet the model makes a cost-benefit calculation for a set of alternative fuel options and energy efficiency measures and then re-calculates the global level of fuel consumption and emissions.
The report is available here.